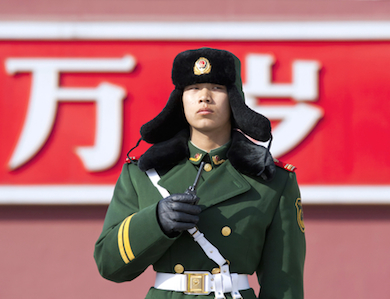 The Third Session of the 12th National People's Congress (NPC), China's top legislature, will open on March 5th. During the meeting, Beijing could lower the GDP growth target for 2015 to around 7.0% from around 7.5% in 2014, says a report by BofA Merrill Lynch Global Research.
The major reason is China's declining potential growth, now coined as the new normal. Fiscal policy will turn increasingly proactive, with a higher planned fiscal deficit as a percentage of GDP likely to be announced, says the bank.
Reforms remain the government's top priority while plans for fiscal, Hukou system and land as well as judicial reforms may be highlighted. Discussions on environmental protection will likely catch market attention, forecasts BofA Merrill.
The bank expects the planned fiscal deficit to be increased to around RMB1.6 trillion in 2015, from RMB1.35 trillion in 2014, while the ratio of fiscal deficit to GDP could rise to 2.3% to 2.4% in 2015 against the targeted 2.1% and actual deficit of 1.8% in 2014.
Within that, a higher local government bond issuance quota of RMB600 billion will be launched, as municipal bonds will be introduced. While the increase in budget deficit may seem moderate, the actual fiscal spending could be higher as the government activates existing idle fiscal funds to supplement revenues.
The NPC meeting will provide a good opportunity to assess local government funding conditions in 2015. Following the raft of local government debt reform measures introduced in 2014, local governments could face funding pressure as they move towards a direct financing model using municipal bonds.
However, the central government could allow some roll-over of existing local government debt for projects currently under-construction during the 2015 to 2016 transition period to alleviate some funding pressure.
Reform will remain the top priority of the government, but the meeting will not have a significant impact on the market, as most of the major policy initiatives would have been mentioned in the recent Plenums or in the work conferences held in December last year.
Key reforms to be discussed during the NPC meeting could include fiscal, Hukou systems and land, judicial as well as environmental reform.
China will also continue to push forward financial reforms in interest rates, foreign exchange rates and the capital account, says BofA Merrill.
One major task for the government in 2015 could be making progress on Hukou and land reforms. These reforms could help boost the consumption spending of rural residents by offering them better access to public services while helping to support the housing market of Tier 2 and 3 cities by facilitating the urbanization process.