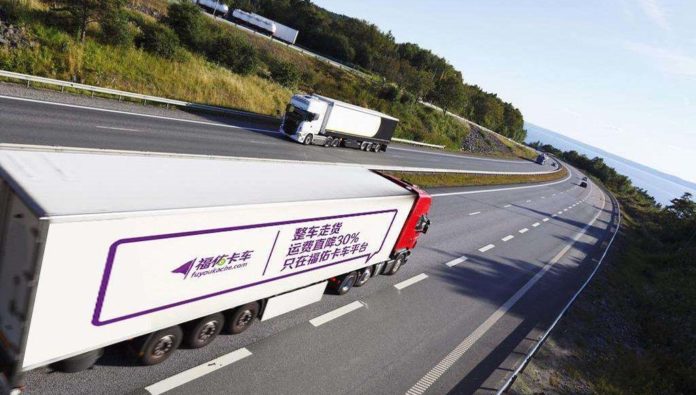 Fuyoukache, a Chinese online truck logistics services provider, announced that it has secured a US$170 million series D round of financing led by Matrix Partners China and Bank Of China Group Investment Limited, a wholly-owned investment arm of Bank of China.
"The logistics industry, as a barometer of China's national economy and people's livelihood, has seen its most important logistics type — road transportation, develop into the world's largest market with a market size of RMB5 trillion (US$724.81 billion)," said Fuoukache in a statement released on its WeChat official account on December 17.
"However, an array of long-standing problems, such as lengthy transaction cycle, non-transparent offline transactions and unstable services quality, have led to the biggest pain point in China's road transportation sector: inefficiency," said the company.
Launched in March 2015, the online platform of Fuyoukache provides long distance truck logistics services to enterprises, individuals and large third-party logistics companies. The platform helps connect truck drivers with those in need of logistic services, covering 31 provinces in China through partnership with over 30 logistics companies including Deppon Logistics Co., Ltd, S.F. Express, and ZJS Express.
According to the statement, Fuyoukache has accumulated data from various aspects of the market, including market vehicle price, transport routes, and vehicle and driver information, with an average of 20,000 orders recorded every week.
The company claimed to have helped cargo owners save 10% transportation cost on average by optimizing their business operations with technologies like machine learning and artificial intelligence.
Proceeds of the new round will be used to finance technology innovation.
Chinese e-commerce firm JD.com's logistics subsidiary, JD Logistics, led a RMB150 million (US$23 million) financing round into Fuyoukache in January 2018. The company also completed a RMB250 million (US$36 million) series C round of financing led by China's venture capital firm Legend Capital in March 2017.