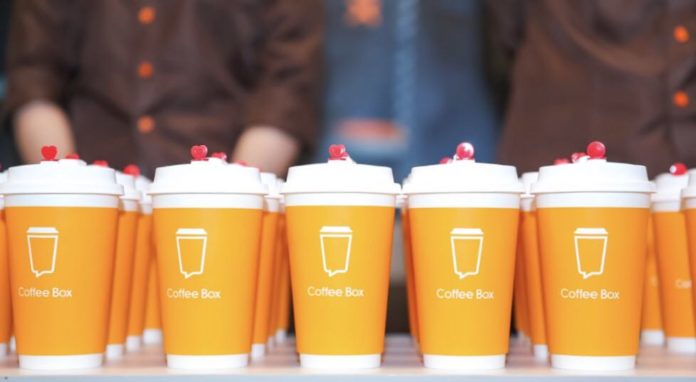 Chinese coffeehouse chain operator Coffee Box announced on Wednesday that it has raised RMB206 million (US$30.64 million) in a series B3 round of financing from two of its co-founders, and the country's venture capital companies Qiming Venture Partners and Gaorong Capital.
Coffee Box was founded in May 2014 in Shanghai to start the business by delivering popular foreign coffee brands like Starbucks and Costa Coffee to customers in China. The company dispatches its couriers to coffee shops all day long in the urban main business districts. With a promise to deliver orders within 15 minutes, Coffee Box charges customers a delivery fee of RMB2 (US$0.30), which is set to rise for some foreign coffee brands.
This business rewarded the start-up with substantial customer data, which can be directly used as access to the distribution of takeout coffee buyers and each customer's preferred flavor and temperature. Based on such advantage, Coffee Box edged into the Chinese coffee chain business in 2015, starting with delivering its own takeout coffee through a WeChat mini-program.
To better compete with domestic and foreign counterparts who already grasped a large proportion of the market share, Coffee Box strives to take a foothold by promoting products with subsidies and discounts, such as caffe latte priced at RMB5.8 (US$0.86). The company said it has become profitable since early April 2019, and it will soon launch a new round of expansion plans.
Despite how well-prepared it is, Coffee Box is undoubtedly facing fiercer market competition. Besides the strong presence of the foreign coffee giant Starbucks in China, its homegrown competitor Luckin Coffee also filed for an initial public offering (IPO) in the United States this week after the unicorn netted US$200 million in a series B round at a valuation of US$2.2 billion.
Including the new round, Coffee Box has raised a total of six funding rounds in the past five years. According to information available on Chinese business data provider Tianyancha, the company secured RMB158 million (US$23.50 million) in a series B+ round from Qiming Venture Partners and Gaorong Capital in March 2018. In April 2016, it collected RMB50 million (US$7.43 million) in a series B round from Chinese TV program production and distribution firm Film & TV.
The company also raised tens of millions of yuan in a series A round from Chinese venture capital companies Eastern Bell Venture Capital and Star Venture in October 2014.