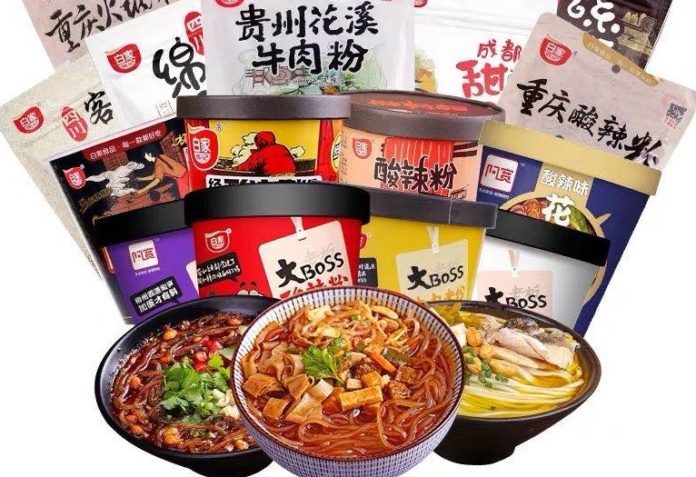 Even as traditional instant noodle companies like Master Kang (HKG: 0322) struggle as sales plummetted after the rise of online food ordering platforms like Meituan Dianping, a new breed of convenient food startups are receiving funding in China to cater to young consumers' demand for tasty, healthy and fast meals at home.
The latest is convenient food company Sichuan Baijia Food, which recently completed a RMB110 million yuan series A financing round led by Co-Win Capital. Qianhai Equity Investment Fund and Changzhou Binfu Modern Services Fund.
This round of financing will be mainly used to increase plant capacity, improve offline sales channels and direct online business, according to company announcements.
Baijia Food is a new representative of the fast-selling noodle industry in China. Its products include convenience food, new convenience food, compound seasoning, ready-to-eat sauce, leisure food. Unlike the bland instant noodle products by Master Kong, Baijia Food's products are more focused on improved taste, new styles of flavors and ingredients, better product quality and more variety. It incorporates many regional cuisines and uses special ingredients across the country.
The company targets middle-class, white-collar, blue-collar and students to meet the needs of consumers in their busy daily study and work life. It is understood that the annual average sales growth rate of Baijia Food in the past three years has reached 45 percent, with total sales of RMB710 million yuan in 2019.
Companies like Baijia Food has also benefited from the coronavirus epidemic. After the outbreak, sales of convenience foods went up and new opportunities opened up. According to JD.com statistics, during the Spring Festival, JD.com platform's convenience food turnover increased 3.5 times.
Figures since January show a historic increase in both online and offline sales, with sales at Tmall's flagship store rising more than tenfold in a single day. In Walmart, Beijing Wumart and other business channels, sales have also increased significantly. The team predicts that if production and logistics can keep up in February, sales could top RMB100 million a month.
Other convenient food startups including hot pot brand Mo Xiaoxian, instant ramen brand Fanni Fish, instant pasta brand Airmeter, have also secured financing previously.
"There is a huge market for convenience foods in China. On the one hand, there is the need to upgrade consumption with the growing domestic middle class and increasing purchasing power. On the other hand, there are more and more dual-career families, the pace of life accelerated. There are also more outdoor dinning needs such as tourism, camping and so on. The consumers' demand for food is healthier, tastier, and more convenient," said Chen Chaohui, chairman of Baijia Food.
(This article is translated from the original here. Translation is supported by LingCloud. Necessary editing has been made to the original.)