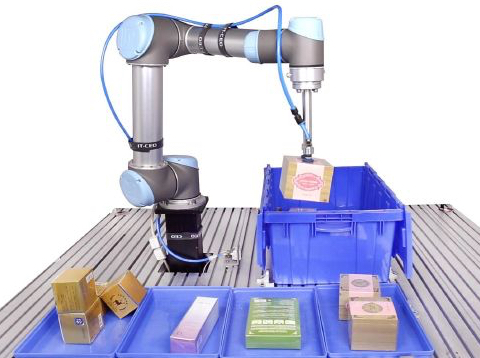 Mech-Mind Robotics, a provider of intelligent solutions for industrial robots, had recently completed the Series B financing led by Sequoia Capital China with an investment of over RMB100 million yuan.
The company's CEO Shao Tianlan said that this round of funds will be mainly used to further enhance the company's service capabilities, expand overseas business, and develop new products.
Mech-Mind Robotics was established in October 2016, focusing on the research and development of AI intelligent solutions for industrial robots. At present, it has complete core technical capabilities of AI + industrial robots, including 3D cameras, computer vision AI algorithms, robot motion planning algorithms, and software that is easy to deploy on a large scale.
In the application scenarios of carton / sack destacking, palletizing, loading of various parts, electrical assembly, pharmaceutical logistics, vault handling, tire assembly, logistics sorting, and gluing, the company has accumulated a number of practical application use cases. It has now entered the stage of large-scale commercial application.
In 2019, the company served more than 100 customers from 7 countries, mainly manufacturing and logistics customers, including many leaders in the fields of automobiles, home appliances, warehousing, express delivery, steel, and heavy machinery. At present, the company has a team of more than 150 people, with headquarters in Beijing and Shanghai, branches in Shenzhen and Munich, Germany, and a Japanese branch is also being established.
Shao Tianlan said the company has developed comprehensively in core technology, product development, delivery and service, and business development. "The company has already passed the demo and industry icebreaking stage and entered the stage of promoting large-scale applications around the world."
To meet the needs of different types of customers, Mech-Mind Robotics has established high, medium and low product lines. In 2019, it also released the Mech-Eye Enhanced series of 3D cameras, which can output high-quality RGB-D images to various objects suitable for a variety of industries And academic research applications.
According to the "China Robot Industry Development Report (2019)" released by the Chinese Institute of Electronics, the size of the Chinese robot market in 2019 will reach US$8.68 billion, of which US$5.73 billion will be industrial robots. The report also predicts that the global robot market size in 2019 will be It reached US$29.41 billion, of which US$15.92 billion was industrial robots.
In recent years, the combination of computer 3D vision, AI technology and industrial robots has become more and more widely used in the field of logistics, such as depalletizing and stacking, rapid sorting, and industrial parts detection, sorting, and unloading on production lines.
The subdivision directions such as warehousing and medical treatment have been further applied. Shao Tianlan also believes that the application scenarios of intelligent industrial robots are very fragmented.
Mech-Mind Robotics has received investment from Qiming Venture Capital and Intel Capital successively in 2019. It has also previously received investments from institutions such as Deutsche Capital, China Venture Capital, Galileo Capital and others.