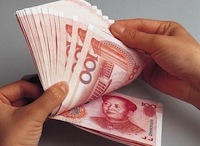 The Bank of China (BOC) Cross-Border RMB Index reached 190 points in the third quarter, up 46 points, or 31.9% year-on-year, according to a BOC report.
After temporary fluctuations, the index bounced back in the third quarter, with the cross-border use of Renminbi on the rise.
Hong Kong, as the largest offshore Renminbi center, handled RMB2.6 trillion worth of trade settlement in Renminbi in the first three quarters of this year, an increase of 36% over the same period last year.
During the first three quarters, BOC handled RMB2.67 trillion trade settlement in the Chinese currency, up 56% compared to the same period last year. The number has already surpassed the total RMB trade settlement of the whole year of 2012.