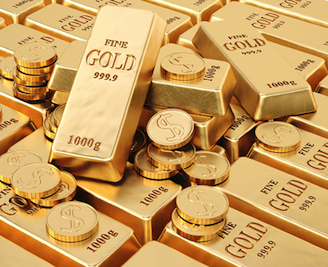 Net demand for gold declined 15% to 3,756 tons globally in 2013, and average price of gold was also down 15% to US$1,411 per ounce, according to a World Gold Council report.
There was 881 tons of net outflows from exchange traded funds (ETFs), and net central bank purchases declined 32% to 369 tons last year.
Total supply was also down 2% to 4,340 tons last year.
The bright spot is consumer demand for gold. Consumers bought 3,864 tons of gold last year, 21% higher than a year earlier.
China became the largest gold market in the world. Consumer demand in China rose 32% in 2013 to a record level of 1,066 tons, while Indian demand rose 13% to 975 tons.
In the U.S., gold bar and coin demand was up 26% to 68 tons. In Turkey, it was up 113% to 102 tons, demonstrating solid demand from gold consumers.
Although central banks' net purchases of gold declined 32% last year, they continued to be strong buyers of gold. Central banks have recorded net purchases of gold for the past 3 years consecutively.
As gold prices dropped, investors redeemed 881 tons of gold from ETFs last year, of which 180 tons were recorded during the fourth quarter.