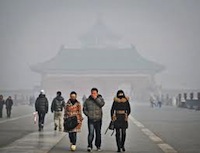 Beijing is planning to spend US$124 billion between 2013 and 2017 to fight air pollution, according to Chinese media reports that cited Beijing's deputy mayor, Li Shixiang.
The effort is made in preparation for the Chinese capital's intended plan to host the 2020 Winter Olympics games.
Government spending will take the majority part of the planned spending, but private capital will also play a role, according to Li Shixiang, who made the comment during the annual National People's Congress.
The air pollution policies will focus on four areas: reducing the usage of coal, lowering car emissions, controlling the total number of automobiles and controlling dust.
Other initiatives include outsourcing Beijing's premium educational and healthcare resources to other provinces and cities by opening up local branches.
This will reduce the influx of people seeking schooling and medical services in the capital.