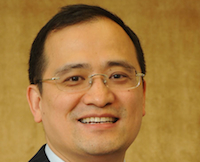 The author is ANZ greater China chief economist Liu Li-Gang
China's central bank announced this afternoon that it will reduce the reserve requirement ratio (RRR) for some rural commercial banks, effective from this Friday.
The reserve requirement ratio for rural commercial banks at county levels will be cut by 2 percentage points while the rate for county-level rural cooperative banks will be trimmed by 0.5 percentage point.
Comparably, the major banks still need to keep 20% of their deposits on reserve with the central bank.
Today's move will not affect overall liquidity in the banking system, as major banks in urban areas aren't affected, but it will support lending to the agricultural sector, the People's Bank of China (PBoC) said.
This is a widely-expected move as Premier Li Keqiang said last Wednesday that China would lower the RRR for county-level rural commercial banks and rural credit cooperatives.
In this case, the PBoC's action today is a policy implementation of the State Council's decision. In fact, this is not the first time China has conducted a selective RRR cut for different-tier banks.
Currently, the RRR for rural commercial banks are already 4.5 to 6.0 percentage points lower than the systematically important banks.
However, the impact of a selective RRR cut is still limited as it will only inject as much as RMB100 billion liquidity into the system. Notably, a 0.5 percentage point RRR cut to the whole financial system will bring about RMB500 billion liquidity injection.
We would treat today's move as a signal which reflects that the accommodative monetary policy stance will be maintained over the foreseeable future, given that the real economy is expected to remain lukewarm and inflation pressures are mild.
An RRR cut to the whole banking system in the coming months cannot be discounted as well, but we view that the RRR cut will be largely dependent on the momentum of the real activity indicators.
Indeed, the PBoC has conducted a "double intervention" strategy (lower the short-term interest rates and depreciate the RMB) to ease monetary policy conditions.
Nonetheless, these actions have not had significant impact so far, as the market remains cautious about the liquidity outlook and rising credit risks.
The actual lending rates to the corporates still remained elevated, which has significantly eroded the corporates' profit margins.
From this perspective, the Chinese authorities should find more effective ways to permanently lower the cost of funds for the real economy, and RRR cut could be only one of the policy choices.

(The article has been edited for clarity)