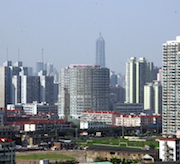 Global property consultancy firm Knight Frank says it has established a long-term strategic partnership with Taiwan's real estate brokerage firm REPro International, according to a Knight Frank announcement.
The two parties will work together on serving Taiwan real estate clients locally, as well as serving Taiwan clients who are making outbound investments.
"Establishing our footprint in Taiwan aligns with our strategy as a Knight Frank Group in delivering US$1 billion in turnover by 2017," says Kevin Coppel, Regional Head of Knight Frank Asia Pacific.
REPro's core commercial services include valuation, corporate services, leasing, investment sales and advisory. It represented Bank of China to rent three floors of office space in Taibei city in 2011.