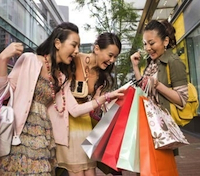 China's online population will reach 730 million in 2016, of which 380 million will be online shoppers, according to a report issued by global consulting firm Boston Consulting Group.
Chinese online shoppers' activities are concentrated on a number of platforms, including Chinese e-commerce giant Alibaba Group and JD.com.
A unique feature of the Chinese online shopping experience is that shoppers tend to spend significant amount of time, usually between 10 to 20 minutes, to research the product before making a final purchase.
They tend to look at product information listed on the e-commerce site, do an Internet search, check out related commentaries on social media platforms such as Sina's Weibo.
On average, a shopper will browse up to 10 webpages before making a decision to purchase.
They are also inclined to rely on recommendations or information provided on social media platforms, rather than information on the product's official website.
Chinese online shoppers behave differently in various product categories.
In skincare products, for example, shoppers tend to buy products both online and offline in order to compare product quality. But for clothing, they are more likely to shop online without any related offline activity.
"Companies should strive to provide their consumers seamless experience in their psychical stores, as well as their official website, mobile apps, social media and smart phone platforms," says Ye Yonghui, Hong Kong-based partner at Boston Consulting Group.