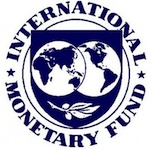 The outlook for Asia's GDP growth is forecast to improve to 5.5% in 2014 to 2015, says International Monetary Fund (IMF) in its latest Asia and Pacific regional economic outlook report.
While economic developments in Asia remain uneven, the region will continue to be among the global growth leaders. The main growth drivers are improving external demand, particularly from advanced economies, robust labor markets, and strong credit growth.
Risks to the outlook have become more balanced. Global growth has strengthened and overall global prospects have improved. But Asia still faces new and old risks including geopolitical uncertainty, exit from unconventional monetary policy in the United States and low inflation in the Euro area.
The main external risk remains an unexpected or sharp tightening of global liquidity. Rapid movements in global interest rates could lead to further bouts of capital flow and asset price volatility.
Asia is also facing various risks emanating from within the region. Growth in China and Japan could also fall below expectations, with negative spillovers for the rest of the region.
In China, a gradual slowdown as a result of reforms would be welcome as it would put growth on a more sustainable path. However, a sharp fall in growth—which remains a low risk—would adversely affect those regional trading partners that are most dependent on Chinese final demand.
In Japan, Abenomics could be less effective than envisaged, resulting in lower inflation and weaker growth, with spillovers to economies that have strong trade and foreign direct investment linkages with Japan.
Strong intra-regional trade integration, which is shown to have contributed to greater business cycle synchronization and spillovers over the years, could transmit geopolitically related disruptions along regional supply chains.
Given relatively low inflation across most of the region, countries generally appear to have space to maintain the current supportive stance of monetary policy. But a gradual normalization of monetary conditions would be warranted as economic prospects continue to improve and downside risks recede.
In economies with high inflation, decisive action on monetary policy will likely be needed to ensure that headline inflation stays on a downward path. The IMF also notes that, in many of Asia's frontier and developing economies, curbing rapid domestic credit growth is needed to address domestic and external imbalances.