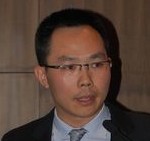 The author is China International Capital Corporation (CICC) analyst Wang Hanfeng
The H-share market remained largely flat last week with a minor loss of 0.3% in the MSCI China Index after two-weeks of pullback since mid-April.
Defensive sectors, such as telecom (boosted by reports of state-owned enterprise reform to set up a state-owned base station company) and consumer staples gained the most, while most cyclical sectors lagged, especially IT, autos and retail. Healthcare also tumbled.
We believe there should be limited further market downside from here, although investors might need to stay patient for the upside.
The past few weeks have the intensive introduction of a series of pro-growth policies and proactive reforms, such as the opening of 80 major infrastructure projects to private capital, and a bank reserve requirement ratio (RRR) cut for qualified rural commercial banks during the recent State Council executive meetings, the further hike of total railway investment to RMB800 billion, as well as stronger-than-expected Shanghai-Hong Kong mutual access implementation details.
We believe these policy moves have sent a clear signal that China will strive to maintain that its economy "operates within a proper range", which in return will help to protect the market from further massive downside.
Meanwhile, the latest April Purchasing Managers Index (PMI) read also shows some improving sign in the industrial activities from the trough in the first quarter.
Therefore, we reshuffled our top-pick portfolio to reflect and incorporate the latest developments in the market. Overall, we still prefer the "old economy" sectors to the new ones.
On a comparable basis, MSCI China earnings growth witnessed a notable contraction of 5.8 percentage points to around 9% in the first quarter from the 15% for 2013, mainly dragged by energy and insurance.
There has been a cross-board slowdown of growth in most sectors except for consumer staples and capital goods. On the other hand, revenue growth also shrank substantially in the first quarter, but profit margin edged up slightly from 2013.
The H-share market turnover was fairly light due to the holiday, but short sell as a percentage of total turnover remained elevated at 10%.

(The article has been edited for clarity)