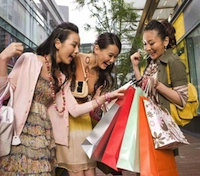 The Australia and New Zealand Banking Group Ltd. (ANZ) and Australian research firm Roy Morgan Research have jointly launched an index to track the Chinese consumer confidence levels, according to a joint announcement.
The ANZ-Roy Morgan China Consumer Confidence Index, which gauges China's consumer confidence and inflation expectations, remained stable at 152.5 in May, compared with 152.6 in April.
The index sees a clear declining trend of inflation expectation among Chinese consumers. In May, the respondents projected China's price level will rise by 4.0% in the longer term, much lower than the 5.2% recorded in January and 4.5% in April.
Consumer confidence also varies in different cities. While Shanghai and Guangzhou remained upbeat, the sentiment in Beijing continued to trend lower. In China's small and medium cities, consumer confidence generally saw an improvement.
"The May consumer confidence has shown signs of stabilization, which could foretell a possible pick up in China's retail sales," says ANZ's chief economist of Greater China, Liu Li-Gang.
"However, a further decline in inflation expectation suggests that domestic demand remains lukewarm. This suggests that the retail sales figure in May will not see a significant boost either," he adds.
China's private consumption was around US$3.3 trillion in 2013, almost as large as Germany's GDP. However, there is still huge room for Chinese consumption to grow at a fast pace, according to a research report by ANZ.
China's private consumption represents only 36% of its GDP, compared to the world's average of 60%.