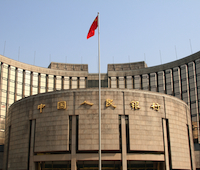 The People's Bank of China says today that certain qualifying Chinese banks' reserve requirement ratios will be reduced by 0.5%, effective June 16, according to an announcement by the Chinese central bank.
The policy initiatives apply to Chinese commercial banks that issued more than 50% of new loans to the agriculture sector, or to the country's small companies in 2013. They also must have over 30% of their total outstanding loans extended to these two sectors at the end of 2013.
By these qualifications, the policy will affect two-thirds of the Chinese city commercial banks, 80% of non-county level rural commercial banks and 90% of non-county level rural cooperative banks.
China's State Council indicated that the country will appropriately lower the reserve requirement for banks that have extended certain amount of loans to rural borrowers and smaller companies at the end of May. The latest announcement gives much-awaited details of the targeted policy loosening, which could boost market sentiment.
The latest targeted RRR cut will release RMB70 billion to RMB100 billion liquidity into the market, with the size similar to the last selective RRR cut in April, estimates ANZ's greater China chief economist Liu Li-Gang.
The ANZ economist continues to forecast a 0.5% RRR cut to the whole financial sector during the third quarter, which will bring about RMB500 billion into the market.