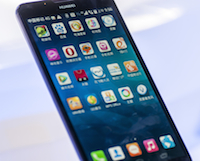 The worldwide smartphone market grew 23.1% year-over-year in the second quarter of 2014, establishing a new single quarter record of 295.3 million smartphone shipments, according to preliminary data from the International Data Corporation (IDC).
"A record second quarter proves that the smartphone market has plenty of opportunity and momentum," says Ryan Reith, program director with IDC's Worldwide Quarterly Mobile Phone Tracker. "Right now we have more than a dozen vendors that are capable of landing in the top five next quarter. A handful of these companies are currently operating in a single country, but…they all recognize the opportunity that lies outside their home turf."
Among the top vendors in the market, a wide range of Chinese OEMs (original equipment manufacturers) more than outpaced the market in the second quarter. By far the most impressive was Huawei Technologies Co. Ltd., nearly doubling its shipments from a year ago, followed by another strong performance from Lenovo Group Ltd.
"As the death of the feature phone approaches more rapidly than before, it is the Chinese vendors that are ready to usher emerging market consumers into smartphones. The offer of smartphones at a much better value than the top global players but with a stronger build quality and larger scale than local competitors gives these vendors a precarious competitive advantage," said Melissa Chau, senior research manager with IDC's Worldwide Quarterly Mobile Phone Tracker.
Huawei's story centered on 4G LTE pick up, particularly in China, as all three national carriers subsidized 4G handsets like the P7 to encourage consumers to upgrade from 3G.
Outside of China, large volumes of its lower-cost Y series fueled growth across most regions. The company continues to focus on broadening its global reach and the second quarter results show that the momentum is undoubtedly there.
Lenovo had a record quarter in China despite tremendous pressure from local brands. While its Motorola acquisition is undergoing approval, Lenovo continued to gain traction in international markets.
While less than 5% of Lenovo's shipments were registered outside of China in the second quarter of 2013, this share nearly tripled in the second quarter, with emerging markets picking up the largest volumes.
The World's Top Five Smartphone Vendors Q2 2014 (units in millions)