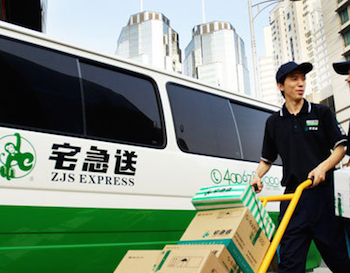 Private courier service provider Beijing ZJS Express Co., Ltd. has received an undisclosed investment from an investor consortium led by Fosun Capital Group, according to Chinese media reports.
China Merchants Securities, Haitong Securities, Hongtai Capital and Zhong Xinjian Merchants Equity Investment Fund also participated.
After the completion of the deal, the five investors will hold a combined 30% of ZJS Express. They will help upgrade the company's management and further expand its businesses.
Founded in 1994 by, ZJS Express initially focused on the B2B (business-to-business) segment of the courier market. Hammered by a management disaster and fierce competition from new competitors providing cheaper services, the company has struggled in losses for years.
This investment is part of the company's drive to reorient its businesses back to its core B2B market with the help of the capital and resources from its new strategic partners.
ZJS Express is co-founded by Chen Dongsheng, who also co-founded Taikang Life Insurance Company Limited and China Guardian Auctions. Chen is married to the granddaughter of Mao Zedong.