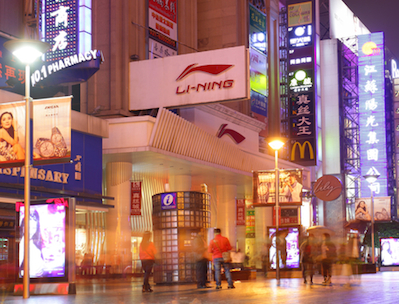 Beijing-based Chinese sporting goods firm Li Ning Co. Ltd., backed by U.S. private equity firm TPG Capital and Singapore's sovereign fund GIC, says it plans to raise between HK$1.5 billion (US$193 million) to HK$1.69 billion (US$218 million) by issuing ordinary shares and convertible securities to the public to support the company's future growth, according to a company announcement.
The shares will be issued at HK$2.60 apiece, representing a 25% discount to its closing price on the last full trading day on the Hong Kong Stock Exchange.
Li Ning says its existing investors Hong Kong investment holding company, Viva China Holdings Ltd., TPG Capital, Milestone Capital Strategic Holdings Limited, and GIC have committed to subscribe to the share offering.
Viva China, TPG, Milestone and another unnamed financial investor have promised to buy up all the shares not taken up by other investors.
"Next year will mark the beginning of the company's growth phase. The series of adjustments made to date have resulted in an improvement in our operations and set the company on a clear path to growth," says the company's founder, Olympic gymnast Li Ning.
In January 2012, TPG invested RMB561 million (US$88.81 million) in Li Ning in exchange for a stake of around 12%. GIC invested RMB189 million (US$30 million) for around 8% of the company.
Both invested via subscribing to the company's convertible bonds with 4% annual interest and convertible at HK$7.74 per share, according to the company's securities filings.
Li Ning's shares have slumped to HK$3.09 today from HK$7.29 at the time of the investment.
"TPG is further strengthening its commitment to the company by subscribing to and underwriting the open offer to increase its investment in the company," says Scott Chen, non-executive director of Li Ning and partner of TPG.