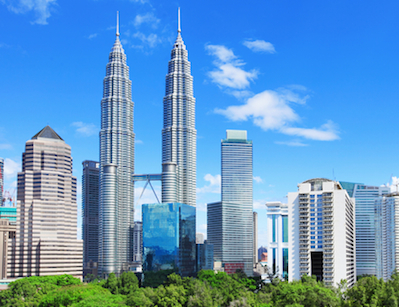 Chinese property firms are the leading contenders in the bid to purchase the French Embassy in Kuala Lumpur, the capital of Malaysia, amid increasing investments by Chinese developers to push into places outside of their home market.
The French Embassy in Kuala Lumpur, located along Jalan Ampang in the city's Golden Triangle, has been put up for sale after the French government decided to streamline its diplomatic network to save cost.
Chinese buyers have led interest in the bidding process so far, according to U.S. real estate firm CBRE Group, Inc., the sole agent for the auction.
"Typical projects for Chinese investors are large integrated developments where they can put their expertise to good use," says Nabeel Hussain, associate director at CBRE Malaysia. "The French Embassy is one of the few opportunities for a large, landmark development in the…area, which offers Chinese developers the size and scale they tend to prefer along with the flexibility for innovative offerings."
Large Chinese players like Country Garden, Guangzhou R&F Properties Co., and Greenland Group have entered Malaysia in a big way in recent years. They have been the leading foreign investors in the country's real estate market.
Just in the past two years, a total investment value of US$1.6 billion has been recorded for three major site acquisitions by Chinese investors.
The improving relationship between the countries and their governments facilitates these cross-border investments. In addition, the large Chinese population in Malaysia who speak various dialects and often identify strongly with China.
The French embassy is an eight-acre with significant frontage onto two thoroughfares, and is located close to major landmarks including the Petronas Twin Towers and the Suria KLCC shopping center, as well as local transport hubs.
This is the largest sale of French governmental assets outside of France to date. A decision on the winner will be made by April 2015.