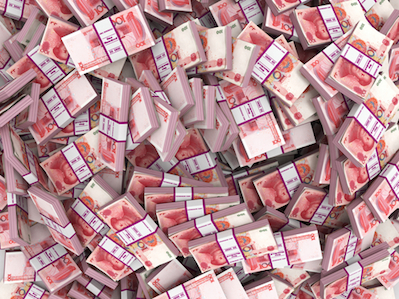 The People's Bank of China (PBoC) has decided to cut banks' reserve requirement ratio (RRR) by 50 basis points, effective today. The move is necessary to arrest further economic slowdown, and it is just the beginning of a series of monetary easing actions down the road, says a research report by Nomura.
The reports says that there are five reasons why China has to initiate more monetary easing. First, targeted piecemeal easing, such as short-term liquidity injections and easing of macro-prudential measures, has proved to not work efficiently.
Deeply rooted structural challenges such as the high local government debt burden, the continued property market correction, and de-leveraging still exist after numerous piecemeal monetary easing policies.
In fact, leading indicators have already suggested that growth may have lost its momentum in January. The official purchasing manager index (PMI) fell into contraction territory below the gauge 50 for the first time since September 2012, while the HSBC PMI also remained below. This could be the result of both softer external demand and domestic challenges, such as high debt and a renewed property market correction.
Secondly, there is strong dis-inflationary pressure in China's economy. Lackluster external demand and the renewed property market correction are exacerbating the overcapacity problem in the country's upstream industries.
Thirdly, despite liquidity injection through reverse repo operations, interbank liquidity has remained tight. Seven-day repo rate, the Chinese central bank's key interest rate for enacting monetary policy, remained high at 4.6% per annum on February 4.
This might be related to large net capital outflows which have exceeded the current account surplus, resulting in continued weakening of the RMB exchange spot rate. Structurally lower foreign exchange inflows reduce the need for forex intervention, and hence sterilization, providing room for RRR cuts.
Fourthly, further RRR cuts are needed to foster financial reform, as it helps compensate for the higher costs to banks resulting from interest rate liberalization.
Nomura expects the authorities to start a deposit insurance scheme this year, in addition to launching certificates of deposit to corporates and high net worth individuals.
These measures would add costs to the banks. Without RRR cuts, banks would most likely pass on the cost to private firms and households, which goes against the government's aim of lowering financing costs and re-balancing the economy.
Lastly, RRR cuts will also help improve the monetary policy transmission mechanism. A high RRR, like a tax, causes high market friction and impedes banks' asset allocation adjustment when facing external shocks, and therefore weakens the policy rate transmission to other interest rates.
As such, a lower RRR would help improving the monetary policy transmission mechanism and increase its reliance on price-based policy instruments.
Nomura maintains its view that there will be three other RRR cuts and one benchmark interest rate cut during the rest of the year, including a 50 basis point RRR cut in every quarter, and a 25 basis points benchmark interest rate cut in the second quarter.