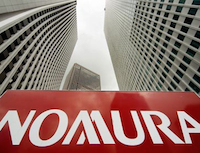 Nomura has appointed Zhao Yang as its China chief economist and Sophie Jiang as head of Hong Kong and China banks equity research, as the firm continues to enhance its research platform in the region, according to a company announcement.
Zhao Yang will lead a team of three economists to forecast China's economic cycle and produce thematic research and thought leadership on macro-economic issues in China.
Jiang joins from Religare Capital Markets where she was head of China banks research covering H-share listings. She has a global client franchise and has previously been ranked number tenth banks analyst in the annual Asiamoney Brokers Poll in 2010.
"Their appointments will strengthen Nomura's research excellence in China and the region and ensure that Nomura continues to provide thought leadership on the world's second-largest economy, which has entered a brand new phase of development," says Yang Zhizhong, chairman and CEO of Nomura, China.
Prior to joining Nomura, Yang worked at China International Capital Corporation (CICC) as an economic research team leader and has previously worked as a manager at the Hong Kong Monetary Authority as well as an assistant professor in Macroeconomics at China's Fudan University and Xiamen University.
He obtained a Ph.D. in economics from University of Pittsburgh in the U.S. and graduated from Fudan University with a B.A. and a M.A. in economics.
Jiang has previously also worked at CCBI and received a bachelor of finance and bachelor of ,anagement from Renmin University of China.