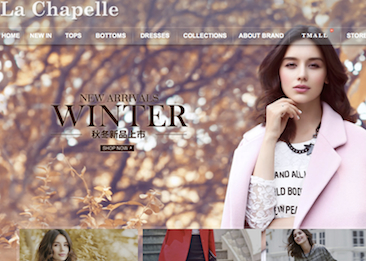 Chinese multi-brand apparel group Shanghai La Chapelle Fashion Co., Ltd., backed by a slew of venture and private equity investors, says it has agreed to acquire 45% of online fashion retailer Hangzhou Anshe E-Commerce Co., Ltd. for RMB135 million (US$21.6 million), according to a company announcement.
La Chapelle has also agreed to inject RMB65 million (US$10.4 million) new capital into Anshe E-Commerce, further increasing its stakes to 54.05%.
The investment is part of La Chapelle's new O2O (online-to-offline) strategy after it launched its online flagship store on Alibaba's Tmall last year.
The acquisition of Anshe E-Commerce will add additional online shopping platforms to further improve its online sales and marketing capabilities, says the company.
In October 2014, La Chapelle completed an IPO in Hong Kong, raising a total of HK$1.7 billion (US$220 million).
The company is backed by venture and private equity firms including Legend Capital, Boxin Capital, Shanghai Ronggao Venture Capital, Beijing Goldman Sachs, Asia Alternatives Management LLC., and Orchid Asia Group Management Ltd.
La Chapelle currently operates five brands for women, two menswear brands and one children swear brand. As of June 2014, it operates 5,671 retail stores across China.