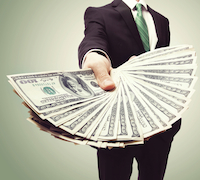 By Nina Xiang
If you are ever going to take stock tips, make sure to attend the Sohn Conference.
Now in its 20th year, the Sohn Conference has featured some of history's most successful hedge fund managers, including Carl Icahn, David Einhorn, and Paul Tudor Jones. These billionaire investors share real, actionable investment ideas with the audience to benefit pediatric cancer research.
The conference's Hong Kong event last year, for example, presented ideas that would have netted returns as much as 75.75% for the past 12 months. The average return of all the stocks recommended was 22.07%, far exceeding the 7.31% return recorded by the MSCI AC Asia Pacific Index during the same period.
This year's Hong Kong gathering, the third on the island and presented again by the Karen Leung Foundation on Wednesday, gathered over a dozen top hedge fund managers from across Asia.
There was a lot of optimism about Japanese stocks, whose shares were recommended the most in numbers by presenters. For China, despite market frothiness and outrageous valuations, managers were still able to come out with ideas with great up-side potential.
Adam Levinson, CEO of Singapore-based US$4 billion hedge fund Graticule Asset Management Asia and formerly head of Fortress Asia, likes three Chinese brokerage firms: Haitong Securities, China Galaxy Securities, and CITIC Securities.
As a macro manager, Levinson sees tremendous tailwind for Chinese brokers going forward. China's monetary easing will remain in place for some time, due to the economy's extreme weakness. The country is also reversing larger-than-desired fiscal contraction, and is in the process of transitioning from a bank loan-dependent economy to one where capital markets play a much larger role.
There will be more outbound investment by Chinese investors, as well as inbound flows. Just during the past two weeks, FTSE Group said it would include Chinese stocks in its emerging market indexes, while Index fund giant Vanguard followed suit. More managers are likely to do the same.
All these will lead to a "fundamental and permanent change to high trading volumes," said Levinson. Last week, combined turnover in Shanghai and Shenzhen stock exchanges rose to a record RMB2.4 trillion (US$380 billion), exceeding that of the U.S.
Even after discounting the current market frenzy, Levinson believes future trading will far outpace what is currently being used to value Chinese brokers. Haitong Securities, for example, are valued based on turnovers under RMB500 billion (US$80.1 billion).
Catherine Tan, founder of Pan-Asia equity long-short fund Saga Tree Capital Advisors, echoed Levinson's thesis and recommended Hong Kong-based financial services firm, Sun Hung Kai & Company Limited.
The company, which provides brokerage, wealth management, and consumer finance services in Greater China, is positioned to take advantage of the growth of wealth, consumer credit and other financial services in China. Its alliance with state-owned financial conglomerate China Everbright Group can help accelerate its expansion in Mainland China.
With an entirely different focus, Eashwar Krishnan, founder of Hong Kong-based equity long-short manager Tybourne Capital Management, singled out Asian airports, including Shanghai International Airport and Japan Airport Terminal.
Krishnan refers to airports as giant malls where people go to board an airplane. As travel traffic grows and spending increases, the airports' earning power will multiply.
For Shanghai International Airport, the operator of Pudong and Hongqiao airport, the opening of a Disneyland resort in 2016 will boost air travel into the city.
In addition, the airport operator is currently under-monetized in terms of its commercial revenue, or the income from passengers' purchases of food, drinks, or shopping. It records US$5 in spending per passenger, compared to US$15 to US$20 per passenger for international peers.
There were also some very contrarian ideas at the conference. Benjamin Fuchs, a former managing director at Nomura's Asia principal investments division and founder of BFAM Partners (Hong Kong) Limited, recommended high-yield bonds issued by Chinese real estate developers.
Such bonds, especially those with a credit rating of single B, are cheap, claims Fuchs. By his calculation, the price of these bonds are based on a disastrous property market collapse and a financial crisis four times greater than the global financial crisis in 2008.
"We have a different view," Fuchs said. "We don't think a financial crisis is around the corner (in China), and we don't see a property market collapse."
He expects the spread will go tighter, but even if spreads don't move much, investors should still get great carry in the next few years.
(Just a personal note: my favorite idea is high-yield Chinese property developer bonds. Let's see how these ideas perform next June when the conference returns.)