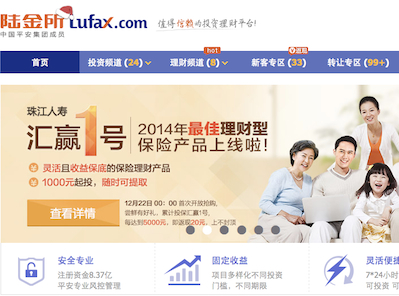 The Internet finance arm of Ping An Insurance Company of China, Ltd., which just completed a US$1.216 billion new financing round ahead of a planned initial public offering, has seen departures of two high-level executives lately, says an article by Caixin Media.
Shanghai Lujiazui International Financial Asset Exchange Co. Ltd., also known as Lufax, suffered the departure of its vice chairman and Chinese Communist Party Secretary Yang Xiaojun, as he joined an Internet finance company 9fbank yesterday.
Lufax's formal general manager Ye Peng has also resigned last August, and the position of general manager remains vacant on Lufax's website today, says the article.
Their departure may be related to the intense pressure from the company's aggressive plans to expand and to achieve an IPO this year or next.
Ye Peng previously served as general manager in China at Apple Inc., chief operating officer at Baidu Inc. and a vice president at Alibaba Group Holding Ltd.
He joined Lufax in 2014, and also led efforts to establish Ping An Insurance's crowdfunding business in 2015.
Lufax was established in 2011 with the support of the Shanghai municipal government.
It completed a US$500 million series A funding round in December 2014. In its latest funding round in January, it was valued at US$18.5 billion.
As of the end of 2015, Lufax has registered users of 18 million with active users of 3.6 million. Its services cover over 300 Chinese cities with cumulative transaction value of over RMB1.6 trillion, the company said in January.