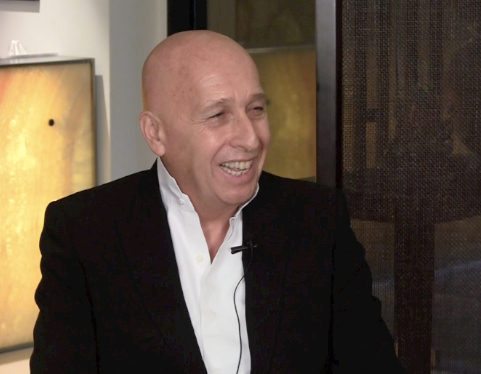 Allan Zeman is a tough interview.
That is not only because the chairman of Lan Kwai Fong Group has been interviewed so many times that it's tough to find a new angle, but also because he's an expert in circling a question back to promote his business.
As you listen to Zeman talk and see how his mind works, you understand how this man turned three short Chinese words into a formidable brand.
If you are familiar with the father of Lan Kwai Fong, you know the self-made business tycoon has been a China bull forever. He is planning to open ten or even twenty (depending on which interview you read) Lan Kwai Fong centers in China over the next decade.
That's a risky bet, considering the slowing Chinese economy and a decline of high-end spending.
But Zeman believes his projects will be unique enough to stand out and attract consumers, even as most malls in China are likely to suffer in the coming years.
We will wait to see how well Zeman's ambitious plans in China turn out. But I would advise on taking his success as a fact, because like he says, "I have always been a winner."
Please read a Q&A of the interview, and don't forget to subscribe to China Money Podcast for free in the iTunes store, or subscribe to China Money Network weekly newsletters.
You can also subscribe to China Money Podcast's Youtube channel or Youku channel.
Q: China's first tier cities have seen housing prices increase dramatically in the past few months. Does this concern you?
A: Those cities have been going against the grain of the other (smaller) cities in China. But as we have seen in Hong Kong, New York, London, if prices get too high, eventually there must be a correction.
Beijing is looking at instituting some measures to slow down the rise, which I think will happen. Beijing understands that if prices get too far out of whack, they have to do something to look after everyone.
Q: Do you see a price correction this year?
A: Within a year, I would predict there could be (a correction), but it won't be a dramatic correction. Perhaps a correction of around 5%.
Long term, (housing prices in) first tier cities will continue to be strong. To me, I look at (owning a property in those cities) as putting money into the bank. You don't have to worry for the long term.
Q: For smaller cities in China, the so-called second and third or fourth tier cities, how bad is the oversupply problem? My own brother and sister live in a third tier city in China, and each of them own three to four apartments. It can't be sustainable?

A: The oversupply problem is very serious. But this is not limited to real estate. There is oversupply in probably every commodity, as the previous administration kept people working to support employment.
It will take a number of years for oversupply to work its way down. We were just visiting our Wuxi project, meeting with the Party Secretary there, who told us the area we are focusing on has seen housing prices escalating lately.
So, certain areas will manage to attract people as urbanization in China continues. Also, Beijing has implemented policies to slow down the construction of new property projects.
Q: For places that can't attract people, a famous Chinese real estate tycoon Ren Zhiqiang has suggested that they should be demolished?
A: No, that's not the answer. Potentially, the government can buy some of the property to lease out as low-cost housing, or the government can buy it as long-term investments and slowly sell them off.
The Chinese government still have a lot of reserves and resources to manage the problem.
Q: Now let's move onto commercial property. I read when you first saw the design of the LKF Haikou project, you didn't really like it and made some changes. What did you change?
A: We had our in-house architecture team work with the project to improve on many things. You must think from the customer's perspective: How do you get them to the second floor, how to stimulate spending, etc.
In our project in Shanghai, we used six different architecture firms to design six zones, each with a distinctive style.
In our Wuxi project, we designed some parts with local architecture characteristics, and others with a very modern look. So it's never borning for people to be in there.
Q: Well, the Haikou project was supposed to be completed in 2013, but I'm not sure if it has opened yet?
A: It was opened two months ago. In Haikou, we were just advisers to help Mission Hills to design the project…
Q: Mission Hills financed the project, and LKF was just managing it?
A: We were not even managing it. We were just helping with the design. I still go down there and we have a working relationship with Mission Hills.
Initially, when we looked at the project, I was concerned that it was not downtown, but I'm proud of what was built.
It will take a while to get busy, but there is nothing like that in China. It's actually quite impressive if you look at it.
Q: So, are they going to use the LKF brand there?
A: The retail part is called Mission Hills Centreville, not Lan Kwai Fong.
Q: Does it mean LKF has exited the project?
A: No, we haven't exited. We were always involved in the design. We actually opened a couple of restaurants there, the California, as well as the original Lan Kwai Fong will be opened there in March.
We are creating the energy for it, but it will take a while to build up.

Q: China's high-end consumption has been in decline. How challenging it will be for high-end commercial centers to succeed in the future?
A: China's anti-corruption campaign really put an end to a lot of free money that was floating around the economy that found its way to high-end brands. And as more Chinese people are traveling abroad, they are buying more overseas.
Another thing is that Chinese people are very conscious about "face". When a lot of luxury brands over-expanded, people found out that you can buy those luxury brands in almost every fourth tier cities, the exclusivity factor disappeared.
But once the luxury brands close down poor-performing stores and get back to a more reasonable number, I believe they will do well.
Q: For your projects in China, how do you finance them?
A: Some are through banks, some are through partnerships, some are with governments. It depends on the city and how badly they want a Lan Kwai Fong.
Q: So, a Chinese city might call you and ask you to set up a Lan Kwai Fong there. They might also offer to finance the project with some bank financing at favorable terms?
A: It depends, every deal is very different. We also use some of our own capital, and have worked with investment banks and private capital.
Q: LKF Group established LKF Capital eight years ago, and the private investment arm is raising external capital now?
A: Yes, we are raising a lifestyle fund with a target of US$300 million to US$500 million.
We hired a former CLSA professional who's very experienced. We are in the process of sourcing the right deals. We've lined up capital behind it.
Every young person you speak to has a new start-up, a new mobile app. I've grown very skeptical on a lot of them. Many are great ideas, but I'm not sure if they are going to execute.
We are looking at ones that have been in business for a while that need extra capital to expand.
Q: So the fund will make early-stage investments?
A: It's too much a gamble for early-stage because there are just too many of them. It's like the oversupply of shopping malls in China.

Q: When did you start fundraising?
A: We started a couple of months ago. We are finalizing all the details and sourcing the right company we want to invest in.
Eventually, we will probably do a real estate investment fund, which we have a lot of expertise on.

Q: Why did you decide to enter into the investment business?
A: We see so many exciting new projects in China. Seeing some other funds dong so well, I feel like it's the right time to leverage our own expertise.
Many funds just have financial people, but we have the ability to creatively turn around a business and make it a success because of our operational experience. I think that's the edge we have.
Q: You have said that you do not want to do an initial public offering because of the burdens related to being a public company. At other times, you have been reportedly actively pursuing an IPO. What is your thinking now?
A: For the moment, I'm not really interested because I don't need it. I like to be private for as long as I can because I can do the right things for the company, not having to worry about the markets.
If at some point, if I really need the money, then I will do an IPO. But if I do that, I want it to be very strong. I hate for people to lose money.
Q:Lastly, Hong Kong is trying to reinvent itself as a hub of tech innovation. But there are worries that its legal protections are eroding. If you were a young man, would Hong Kong be your destination now?
A: I think Hong Kong still is a very dynamic place – when I say Hong Kong, I'm including China. Because of the low tax base, and the rule of law, limited interference of the government, there is still a lot of opportunities here.

About Allan Zeman:
Dubbed as the Father of Lan Kwai Fong, Dr. Allan Zeman is chairman of the LKF Group, a real estate company with projects in Hong Kong, China and Thailand across residential, food and beverage, retail and entertainment segments. He is also a director at Wynn Resorts and is the vice chairman of Wynn Macau.