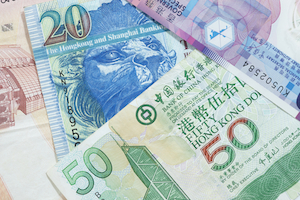 The stock connect program allowing Chinese and Hong Kong investors to participate in each others' stock markets is likely to see RMB160 billion worth of southbound inflows to Hong Kong in 2017, UBS AG says in a research report.
Meanwhile, 25 new stock connect mutual funds have been set up during the first eight month this year, at a total size of about RMB18 billion. At least 13 such funds are in the pipeline ready for launch or for regulators' review.
By 2019, mainland investors are likely to represent about 25% of Hong Kong stock market turnover, compared with 9% in 2014 and 2015, says the report.
The program now accounts for 10% to 11% of Hong Kong stock market turnover. If including other flows from qualified domestic institutional investors (QDII) and unofficial vehicles, UBS estimates mainland investors accounted for 16% to 18% of Hong Kong stock market turnover in recent weeks, and about 12% year-to-date.
Southbound fund flow should be sustainable because of widespread participation of institutional investors, persistent RMB depreciation pressure, and the dearth of assets in onshore markets. Moreover, financial regulators recently appear to be more confident in managing capital outflows.
"We believe policymakers may encourage a reasonable pace of outbound investment in the next few quarters to help contain the domestic asset bubble, especially the overheating property market," says Lu Wenjie, UBS Securities H-share strategist.
Four key contributors to the southbound trade include Chinese insurance companies, mutual funds, hedge funds and high-net-worth individuals, as well as mass market retail investors.
But despite the positive effect of the southbound flow, the risk to the Hong Kong market is to the downside in the next couple of quarters as global investors may exit the "hunt for yield" trade in emerging markets as the U.S. Fed's talk turns more hawkish, says the report.