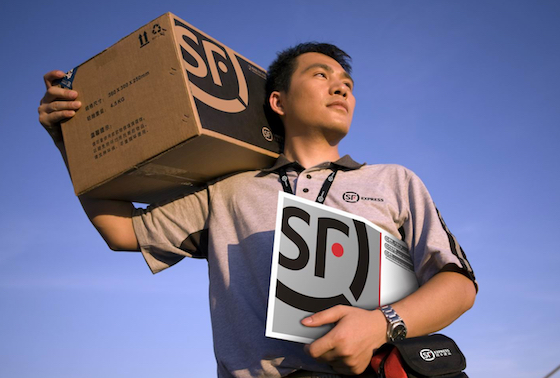 The back-door listing plan of China's largest express delivery firm S.F. Express has been approved conditionally by Chinese securities regulator, paving the way for the transaction to press ahead toward completion in the next couple of weeks.
S.F. Express, backed by CITIC Capital Holdings Ltd., Oriza Holdings and China Merchants Group, said in May that it planned to conduct a reverse merger with Shenzhen-listed Maanshan Dingtai Rare Earth & New Materials Co., Ltd. in a deal that values the express delivery firm at an estimated RMB44.8 billion (US$6.8 billion).
Since then, S.F. Express has made two amendments to the merger plan, including spinning off its financial services unit and selling minority stakes in two Shenzhen enterprises to its controlling shareholder to satisfy regulator requirements.
The one last concern of the China Securities Regulatory Commission (CSRC) is the independence of one of the deal's underwriters, China Merchants Securities (Hong Kong) Co., Ltd. The securities firm is a unit of China Merchants Group, which in turn is a minority shareholder of S.F. Express.
The CSRC has given S.F. Express ten days to provide materials to clarify China Merchants Securities' independence for its involvement in the transaction.
Founded in 1993, Shenzhen-based S.F. Express only raised outside capital once twenty years after its establishment in August 2013, when CITIC Capital Holdings, Oriza Holdings and China Merchants Group invested in S.F. Express for no more than 25% of the company.
According to disclosure filings, S.F. Express recorded revenue of RMB47.3 billion in 2015, up from RMB38.2 billion in 2014 and RMB27 billion in 2012, making it the absolute leader among China's express delivery firms.
The company is set to raise RMB8 billion via the listing, and plans to use the proceeds to purchase vehicles, build up its information infrastructure, advance cold chain logistics and expand warehouse networks.
Aside from its core business of express delivery, S.F. Express also operates an IT service unit, a free online platform for exchanging used consumer goods, a private foundation and an e-commerce platform S.F. Best.