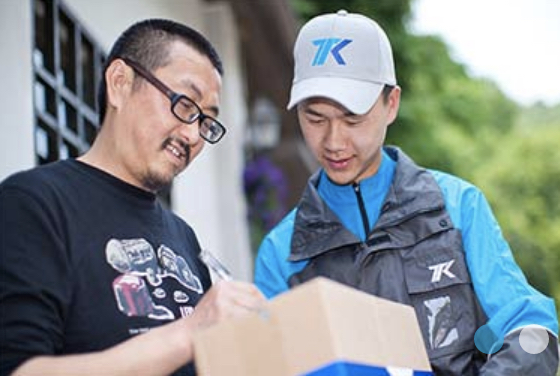 A logistics subsidiary of Chinese retail giant Suning Commerce Group Co., Ltd. has agreed to acquire Hangzhou-based logistics company, Tiantian Express, for RMB4.25 billion (US$612 million) to expand its delivery and logistics capabilities, the company announced.
Jiangsu Suning Logistics Co., Ltd. will first buy a 70% stake of Tiantian Express for RMB2.97 billion, and will acquire the remaining 30% in the next 12 months for RMB1.27 billion after the completion of the first transaction.
Tiantian Express, known also as Daily Express or Tiantian Kuaidi, received a RMB600 million series A financing round led by CICC-Qianhai Development Fund Management Co., Ltd. and joined by a number of Chinese funds in February.
CICC-Qianhai is an investment platform jointly established by investment bank China International Capital Corporation Ltd., Qianhai Financial Holdings, as well as Industrial and Commercial Bank of China in 2014.
At the time when Tiantian Express announced its funding round, the company said the injection of state capital would officially kick off the company's initial public offering plans.
With the sale to Suning, Tiantian Express follows the footsteps of other Chinese companies that choose to sell instead of seeking an independent listing. As a relatively young companies, Tiantian Express' sale came after the completed and planned listings of the biggest Chinese courier delivery firms, including YTO Express, STO Express and SF Express.
Established in 1994, Tiantian Express is expected to handle 1.26 billion packages in 2016. It has 10,000 delivery pick-up and drop-off stations across the country, with 61 distribution centers and eight warehouses.
The company is expected to record net profits of RMB84 million after taxes in 2016, and is targeting to more than double the figure to RMB180 million in 2017. Its valuation of RMB4.25 billion is roughly 23 to 50 in terms of price-to-earning ratio, depending on which year's earnings are used in the calculation.
Suning's logistics arm began operating independently in 2015. It has been trying to build up capabilities in developing logistics properties and warehouses to delivery and transportation.