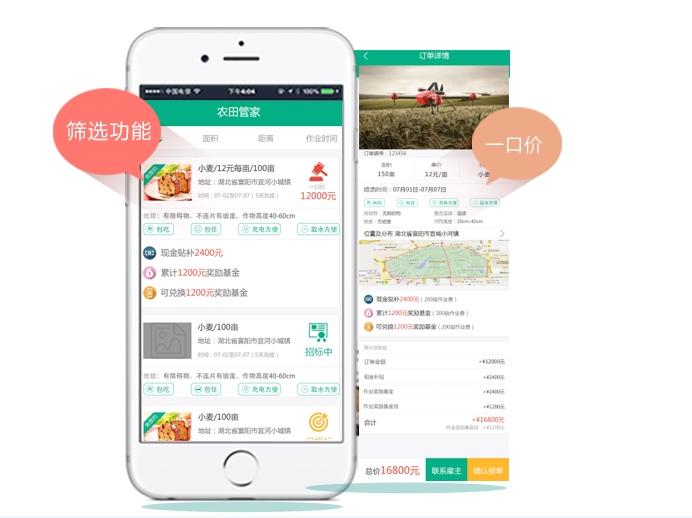 The sharing economy continues to attract venture funding in China. In the latest move, Chinese venture capital firm Gobi Partners has led a RMB50 million (US$7 million) series A round in Nongtian Guanjia, a sharing platform connecting teams of agricultural drone operators with farmers needing their services.
Existing investors including GGV Capital, Shunwei Capital, the Zhen Fund and Yunqi Partners also participated in the round.
Founded in 2016, Nongtian Guanjia, which means "manager of farmland" in Chinese, operates an agricultural services sharing platform similar to that of Didi Chuxing and Airbnb. Farmers can submit requests for agricultural drone operators to spray pesticides and other chemical applications, and Nongtian Guanjia will automatically match their requests with the closest service providers.
"The Chinese agricultural industry is backward in technology usage and faces the challenge of a shortage of labor, while pesticide misuse is a serious food safety issue," said Jiang Tao, a managing partner at Gobi. "Nongtian Guanjia provides services that can help solve the labor shortage issue, increase efficiency and improve food quality."
Nongtian Guanjia's currently has over 1,000 drone operation teams registered on its platform, with over 5,000 agricultural drones available. The company operates in more than ten provinces, including the major agricultural regions of Heilongjiang, Hubei, Hunan, Shandong and Jiangsu, and nearly 1,000 villages.
The platform has completed orders covering over 666 million square meters of farm land, and that number is expected to reach 5.3 billion square meters by the end of this year.
Nongtian Guanjia previously raised a US$1 million angel round from Shunwei Capital in March 2016. Four months later, it completed a US$3 million pre-A round from GGV, Zhen Fund and Shunwei.
The company plans to use the latest proceeds to enhance its research team and expand its business to more cities. It will also expand into other agricultural services such as global positioning services (GPS) and agriculture financing.