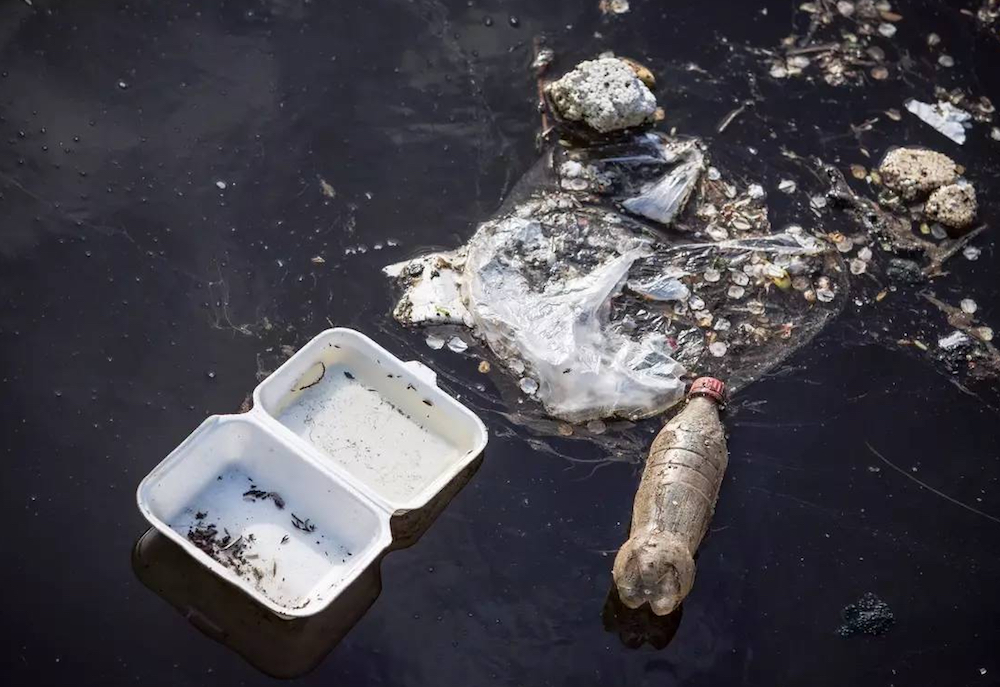 It's Monday morning, and Ms. Li, a sanitation worker at a Shenzhen apartment building is busy emptying leftover food from delivery boxes and collecting the plastic containers. On this day, she finds about 200 pieces, which she'll sell for just RMB3 to augment her RMB2000 monthly salary. Monday morning offers the best pickings as the garbage can is full of food delivery bags dumped over the weekend.
It's a scene repeated across China. Tech-empowered food ordering apps like Meituan Waimai, a unit of US$18 billion Meituan Dianping, and US$6 billion Ele.me, are revolutionizing the way people eat. But they are also exacerbating China's already serious environmental problem. After just a few years in business, it is estimated that the 256 million users of these apps use and discard 29.2 billion plastic containers and 7.3 billion pairs of chopstick waste, or 2.4 million trees, every year. Unless serious steps are taken, the problem will only get worse as the number of food delivery users in China is expected to double by 2020.
China's rising delivery trash pile illustrates how technology companies, despite their clean tech image, can add to environmental problems. Tech companies may not have smoke stacks or cause oil spills like old-line industries. But whether it is used cell phone batteries, shared bicycles clogging city streets or billions of delivery containers, technology innovation brings news sets of environmental challenges.
So far, however, environment protection is taking a back seat to profits. Ms. Li may not make much money from the trash she collects, but the food delivery apps that are the source of much of the garbage are making a fortune. Total revenues of the industry increased about four fold to RMB166.24 billion (US$25.22 billion) in 2016, from RMB 33.55 billion (US$ 5.09 billion) in 2011, according to a report by IIMedia Research Group. Industry leaders Ele.me and Meituan Waimai's parent Meituan-Dianping are ranked 5th and 18th on China Money Network's China Unicorn Ranking.
A profound shift in the way the Chinese public eats is driving those valuations. Users of food delivery apps have expanded to 256 million, or about 19% of China's population in 2016, from 63 million in 2011. Number of active monthly users of Meituan Waimai, Ele.me and Baidu Waimai was 27.66 million, 26.19 million and 12.79 million in July, respectively, according to Chinese research firm QuestMobile. More than 80% of the users surveyed use food delivery apps once a week in the first half of 2017, and more than 10% of users order delivery once a day, according to IIMedia Research Group.
That growth is resulting in staggering numbers in terms of waste. An Chinese environmental organization found that each food delivery contains 3.27 plastic containers on average, plus at least one plastic bag and multiple plastic utensils. That number is expected to grow significantly, with Ele.me projecting that there will be 600 million food delivery users in China by 2020. And as people get used to the ease of ordering food online, they are ordering more frequently. Around 63.3% of users now order more than three times a week.
And China's pollution problem is Asia's pollution problem. China is the world's biggest polluter of the oceans for plastic wastes. Seven rivers that originate or pass through China are contributing around 67% of plastic released through rivers into the oceans, according to a report by the Ocean Cleanup Foundation, a Netherlands-based environmental foundation. The mouth of the Yangtze River, which runs through Shanghai, had a plastic concentration of 4,137 particles per cubic meter – the highest recorded worldwide – and contributed 20,000 tons of plastic every year to the world's oceans.
There are tentative signs of change. In the first case of its kind in China, the Green Volunteer League of Chongqing, an environmental NGO, sued China's top three food delivery platforms, Baidu Waimai, Meituan Waimai and Ele.me in August for not letting customers easily choose how many pairs of chopsticks they need. In response, Ele.me and Meituan Waimai are now allowing users to choose how many utensils they need on their order page with clear instructions, and are giving environmental friendly restaurants special tags so that users know their plastic containers are "green". Ele.me is working with a research institution to conduct studies of degradable containers. And in March, China introduced a rule for household waste sorting, hoping to increase recycle rate.
But such limited steps will not do much to solve the bigger problem. A reduction in chopsticks being delivered will still leave billions of plastic containers in trash bins, landfills and oceans. And the new government recycling initiative is only a test program being rolled out in select cities. In the rushed pace of city life in China's major cities, time efficiency trumps everything else. But as the old Chinese saying goes: Clean the snow in front of oneself, never pay attention to the frost of others. Ms. Li in Shenzhen said she has not seen much waste sorting in her residential compound despite the placement of brand new recycle and non-recycle trash bins. Unless more action is taken by delivery companies and government agencies, that won't change any time soon.