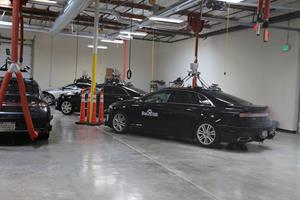 Chinese search engine giant Baidu Inc. has opened its second research and development facility in Silicon Valley, to focus on autonomous driving and Internet security related work.
It's the latest step in the company's ongoing push into the autonomous driving sector. Last month, Baidu said it will set up a RMB10 billion (US$1.5 billion) fund, named the Apollo Fund, to invest in 100 autonomous driving projects globally over the next three years.
Baidu said the new 36,000-square-foot facility, located in Sunnyvale, is being used by it's Intelligent Driving Group (IDG), as well as a division of the company's Internet security department. It said the facility will also be used as a base to recruit talent in those sectors.
"Opening a second site is a natural progression as our teams grow and our recruiting efforts expand in the US," said Ya-Qing Zhang, president of Baidu, who also oversees the company's operations in the U.S.
Baidu first opened a Silicon Valley office in 2011, and launched its first R&D center there in 2014, headed by the company's former vice president and chief scientist Andrew Ng. That facility will remain focused on research in AI and data centers.
Ng left Baidu this March and later announced plans to raise a US$150 million venture capital fund to back AI start-ups.