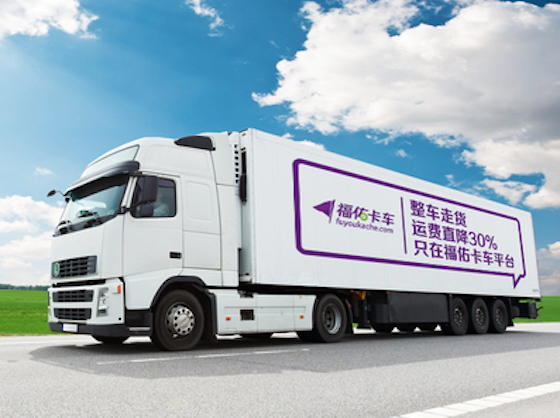 Chinese e-commerce firm JD.com's logistics subsidiary, JD Logistics, has led a RMB150 million (US$23 million) financing round in truck logistics firm Fuyoukache to strengthen its capabilities, the company announced on its official Wechat account. 
Existing investors Legend Capital, Eastern Bell Venture Capital and Singapore-based Global Logistic Properties Ltd. (GLP) also participated in the round, which brings Fuyoukache's total series C to US$59 million after its RMB250 million (US$36 million) series C round led by Legend Capital completed in March 2017.
JD.com has been doubling down its investments in logistics. During the past year, JD.com partnered with automotive manufacturers SAIC Maxus Automotive Co., Ltd. and Dongfeng Motor Corp. to conduct research into the use of autonomous vans in its logistics business.
It also partnered with U.S. technology firm Nvidia Corp. to plan to deploy one million logistics drones in China over the next five years, in addition to signing a strategic memorandum of understanding with Yamato Holdings Co., Ltd., a Japanese logistics company, to build a cold-chain logistics network in China for the delivery of chilled and frozen goods.
Fuyoukache said it will leverage JD.com's resources such as big data and algorithm to improve the pricing for freight transport, service standard, and analysis of user information such as transaction preference, credit conditions.
Founded in 2014, Fuyoukache provides long distance truck logistics services to enterprises, individuals and large third-party logistics companies, connecting truck drivers with those in need of logistic services via its digital platform. It operates in 31 provinces in China, and has partnered with over 30 logistics companies including Deppon Logistics Co., Ltd, S.F. Express, and ZJS Express.
The start-up previously received a total of RMB65 million (US$9 million) series A round from investors including Wu Yongming, a co-founder of Alibaba Group Holding in 2015. It completed a US$15 million series B round led by China's Eastern Bell Venture Capital, with participation from GLP in April 2016.