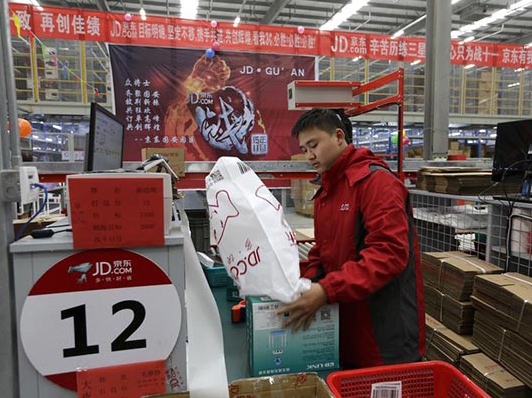 China's second largest retailer JD.com has announced plans to launch an international research and innovation center focused on supply chain management, following the lead of its largest competitor Alibaba, which established a US$15 billion global research and development program DAMO Academy last October.
The Global Supply Chain Innovation Center (GSCI) will bring together global industry experts, companies, universities and other institutions to work together on research projects focused on new technologies and processes related to smart supply chain capabilities, the company said. The GSIC will operate in China, Silicon Valley and Chicago in the U.S., Germany, the Netherlands, and Australia.
JD.com has been building up its logistics units recently to compete with Alibaba and Amazon.  In February, it announced a US$2.5 billion funding round for its logistics subsidiary, JD Logistics.  The funding likely values the company at around US$13.5 billion ahead of an  anticipated initial public offering later this year. The company has also outlined plans to expand in Europe, saying it would spend at least 1 billion euros (US$1.23 billion) to build a logistics network over the next two years.
"JD.com has built up an incredible wealth of expertise and experience in supply chain management, including cutting-edge technologies like AI, big data, blockchain and Internet of Things," said Yu Yongli, head of JD.com's JD Y business unit. "By sharing our resources with leading experts from academia and business, and supporting R&D of emerging technologies, we will empower the GSIC to develop the next generation of smart supply chain infrastructure."
The initiative will be overseen by a committee of industry experts. Hau L. Lee, a member of the U.S. National Academy of Engineering, will serve as the chairman for the GSIC and will lead the GSIC. Other key members at the committee include Benoit Montreuil, Coca-Cola Material handling & distribution chair and professor at Georgia Institute of Technology, and David Simchi-Levi, a MIT professor and former chief scientist at ILOG, a software company acquired by IBM.