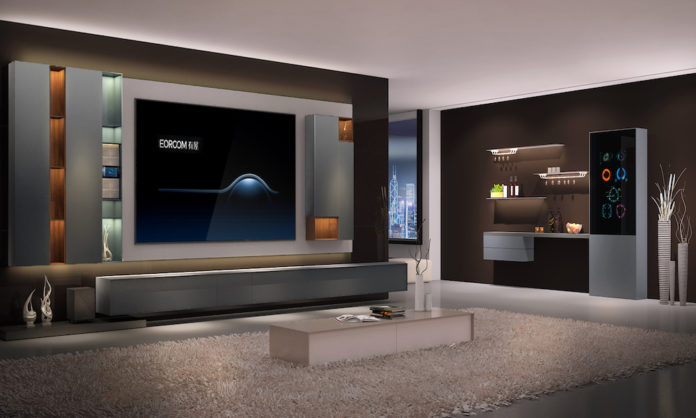 Qingdao Eoroom Technology Co., a Chinese home automation builder, has completed a RMB1.2 billion (US$170 million) series A round of financing, led by investment bank China International Capital Corporation (CICC).
Other investors, including China Equity Group, China Galaxy Investment Management Co., Gaochuang Investment Management Co. and Zhongtai Venture Capital, also participated in the round.
Founded in 2015, Eoroom is a subsidiary of Qingdao Haier Home Integration Co., a Chinese household electrical appliance giant. Eoroom is a smart home company which builds overall intelligent and controllable rooms with self-developed IoT systems, electrical home appliances and furniture. For example, the company has kicked off temperature-controlled kitchens, smart living rooms, and functional walk-in wardrobes.
Via central smart home controlling system ITOO, users can control several functional appliances developed by the company, such as a multifunctional air quality monitor, air purifier, lighting, Wi-Fi, TV, speaker, security camera, electronic locks U-Lock and automatic curtain.
The company operates several independent brands, including Eoroom, NXhome, and Boloni, which layer smart living conditions into a daily household.
The NXhome is a brand that focuses on fitting out a whole house with integrated smart home appliances. The products of NXhome will be "off the shelf" on a self-built online marketplace INXpark and available at around 2,100 offline stores of their own across China.
The proceeds of the round will be used to expand market distribution channels, fund the R&D of key technologies in home appliance interconnection and voice control, and integrate the supply chain for intelligent home devices.
CICC's capital will help accelerate the company's layout of smart homes in the Internet of Things (IoT), under a strategic cooperation agreement signed between Eoroom, CICC and Shenzhen-listed Dare Power Dekor Home, a decorating company with a main focus on wooden flooring.