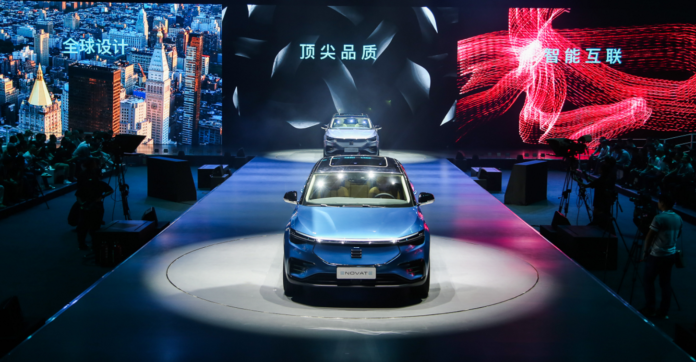 Chinese new energy vehicle brand ENOVATE announced on Sunday that it has raised over RMB2 billion (over US$298.31 million) in a series A round of financing from investors including a government-guided industry fund.
The new round, which took the total capital raised by ENOVATE to more than RMB6.5 billion (over US$969.15 million), saw the participation of a listed company, a government-guided industry fund, an investment institution, and companies in the vertical industry, said ENOVATE in an announcement released on its website. The company did not disclose detailed information of investors.
The investment came as the Chinese auto sales decreased 2.8% year-on-year to about 28.08 million in 2018, while the new energy vehicle sales in 2018 reached about 1.25 million, up 61.7% year-on-year, according to statistics unveiled by China Association of Automobile Manufacturers on January 14. The organization said the Chinese new energy vehicle sales are expected to reach 1.60 million in 2019.
ENOVATE is a high-end electric vehicle brand owned by DearCC, a Chinese electric vehicle manufacturer known for its small and affordable electric vehicles. ENOVATE launched its first model, a luxury electric sport utility vehicle (SUV) named "ME7," in November 2018. The company said the order books for the electric SUV will be opened at the 18th Shanghai International Automobile Industry Exhibition in late April, and the delivery is proposed to start in the second half of 2019.
The company sticks to the strategy of "timely and moderately open" in financing, said ENOVATE chairman and CEO Zhang Hailiang. The company said it would kick-start a new funding round lately.
Proceeds will be used for the construction of intelligent manufacturing factories, brand promotion, expansion of vehicle distribution channels, and the research and development, and trial-production of subsequent car models. Previously, the company raised a series pre-A round in the middle of 2018.