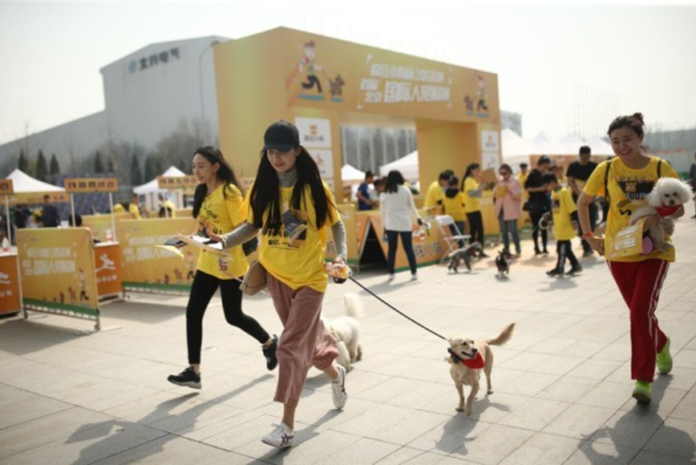 Chinese online pet food brand "Crazy Dog" announced on Tuesday that it has raised RMB300 million (US$43.40 million) in a series B round of financing from Hong Kong-listed Fosun International Limited and China-based private equity firm Guangdian Capital (GDC).
The pet food brand was launched in 2014 in eastern China's Jiangsu province to specialize in the research and development, production, and sales of food, healthcare products, and other daily supplies for pets.
The brand delivers products through online marketplaces like Alibaba Group's Tmall, JD.com, and Amazon, as well as its own brick-and-mortar stores, and over 3,000 authorized pet clinics and pet stores. The sales volume of its products exceeded RMB600 million (US$86.81 million) in 2018, which almost doubled compared to the RMB320 million (US$46.30 million) sales volume in 2017.
Crazy Dog plans to open 20 new chain stores in 2019. The company invested RMB120 million (US$17.36 million) in 2016 for the construction of a production plant. It also set up a pet nutrition research and development center in the United States, which is led by Wang Tianfei, the senior advisor of the World Pet Association.
The investment came when Chinese domestic pet product providers are seeking to net more market shares from their foreign competitors who currently dominate the Chinese pet product market. A Chinese counterpart of Crazy Dog, Mollybox, completed a US$13 million series B round led by venture capital firm DCM Ventures and pet food producer Mars-backed Digitalis Ventures in March.
Proceeds will be used to help the brand construct an online ecology for the pet economy, and speed up the brand promotion and market expansion.
Crazy Dog secured RMB100 million (US$14.46 million) in a series A round from investors including Chinese private equity firm Tian Tu Capital, and American alternative asset manager Ares Management, and in March 2018.