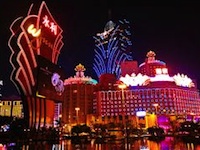 Greater regulatory liberalization in the gaming industry in some key Asian countries will intensify the regional competitive landscape, affecting major casino operators including Genting, Crown Ltd, Las Vegas Sands, Wynn, and MGM, according to a new report issued by Fitch Ratings.
The potential legalization of casinos in Japanese will be the most watched development for the industry this year. Fitch estimates that two integrated resorts in Tokyo and Osaka could generate roughly US$7 billion in gross gaming revenues annually.
Japan has the potential to rival if not surpass Singapore as the second largest gaming market in the Asia Pacific region. The country's pachinko industry, which is a mechanical game used as recreational arcade game and gambling in Japan, currently generates roughly US$30 billion in annual revenues.
Moreover, gaming liberalization in South Korea may occur sooner than in Japan, Fitch estimates. Genting Singapore plc, a subsidiary of Genting Berhad, announced last week an agreement with Hong Kong-listed Landing International Development Ltd for a US$2.2 billion project on the South Korea island of Jeju.
Currently, South Korea restricts gaming from locals except for one casino. The country may consider relaxing those restrictions while loosening other requirements to encourage investment including integrated casino resorts.
Macau's next phase of development on the Cotai Strip will open in 2015 to 2017, while the Philippines gaming market will continue to ramp up materially over the next few years.
Lastly, gaming exclusivity periods in Sydney, Australia and Singapore expire toward the end of the decade, which could result in additional supply. The Queensland, Australia government is also considering additional licenses in Brisbane.