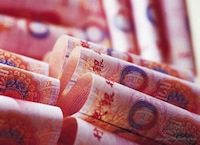 The ceiling for foreign currency deposits of less than US$3 million in the Shanghai Free Trade Zone (FTZ) will be removed, effective on March 1. The change will apply to both corporate and retail accounts, the People's Bank of China's (PBoC) Shanghai branch says today.
This is an important policy move towards further interest rate liberalization in China. The country has already freed foreign currency deposit rates for amounts greater than US$3 million in the onshore market.
"Today's new experiment in the FTZ suggests that the Chinese authorities have taken a gradual approach to a complete interest rate liberalization in the whole economy," writes ANZ greater China chief economist, Liu Li-gang, in a report.
China's central bank will continue to monitor capital inflows into the FTZ from both onshore and offshore markets for banks who set higher deposit rates for foreign currencies.