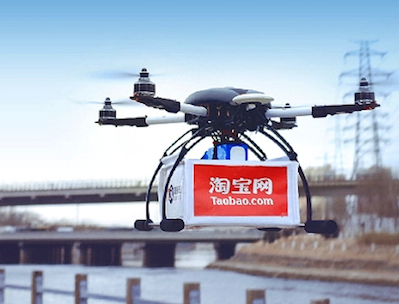 Chinese e-commerce giant Alibaba Group Holdings says its Taobao Marketplace shopping site has partnered with Shanghai YTO Express Logistics Co. to begin a three-day trial of drone delivery technology in Beijing, Shanghai, and Guangzhou today, according to a company announcement.
During the test, parcel-packing quad-copters will be used to ferry boxed sets of products high above city traffic to 450 Taobao shoppers.
The remote-controlled drones won't be flown right to consumers' doors. They'll be landed outside residential buildings, where packages will be collected by human-type couriers for last-mile duty.
Taobao says that the test is a "one-off campaign", and does not mean that it believes that drone delivery service is ripe for commercialization in China.
Any progress in the new technology will depend on the evolution of government regulations.
Here is a video from Taobao showing a delivery drone in action in Beijing: