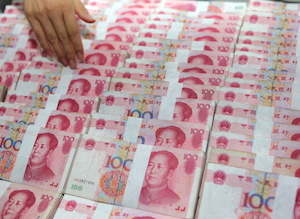 Rong360.com, a Beijing-based financial products search and recommendation engine, has completed RMB1 billion (US$158 million) series D round of financing led by Yunfeng Capital and Sailing
Capital International, the start-up announces in Beijing today.
Sequoia Capital, Star VC and other unnamed investors also participated in the round, which values the four-year-old company at US$1 billion, says the company's founder.
Established in 2011 by former PayPal China general manager Ye Daqing, Rong360.com received US$7 million series A financing from Lightspeed Venture Partners, KPCB and Zero2IPO Venture in 2012.
In August 2013, the company received US$30 million series B financing led by Sequoia Capital.
In July 2014, Rong360.com completed approximately US$60 million led by Pavilion Capital Pte Ltd., a subsidiary of Singapore's Temasek Holdings, according to information posted on the company's website.
(Correction: An earlier version mistakenly stated one lead investor as SAIF Partners, instead of Sailing Capital International.)