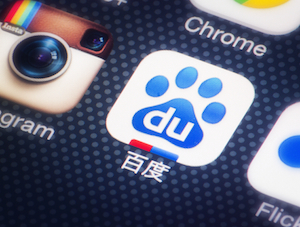 China's Baidu Inc has established a financial services group to develop consumer finance, mobile payment and Internet brokerage businesses, according to an internal letter sent by chief executive Robin Li cited by Chinese media reports.
The move follows a reorganization in February when Baidu structured its businesses into three groups: mobile services, emerging businesses and search services.
The newly created financial services group, which will be led by Baidu vice president Zhu Guang, is to become Baidu's fourth leg, signaling Baidu's ambitions in pushing further into the intensely competitive Internet finance sector.
Baidu has established many partnerships in the financial services sector lately, including a partnership with CITIC Bank, as well as joining Allianz SE and Hillhouse Capital to establish an insurance company.
Baidu Wallet, Baidu's online payment app, has also seen aggressive growth, growing 520% year-on-year during the first nine months this year to achieve around 45 million activated accounts.
Baidu is also pushing into the P2P (peer-to-peer) lending space in the education and travel sectors.
"I hope (the new group) can fully utilize Baidu's advantages and resources to launch innovative financial services business models quickly," Robin Li writes in the internal letter.
Baidu is a late comer to the Internet finance sector. Alibaba launched its Alipay Wallet mobile app in 2013, and established a financial services arm, Ant Financial, in 2014.
Today, Alipay Wallet app has over 350 million registered users and 270 million monthly active users as of mid-2015.
Tencent Holdings Ltd., on the other hand, has 200 million activated credit card users bundled to its Wechat app, according to its third quarter results.
Another business Baidu is pushing aggressively is self-driving cars. It said yesterday that it aims to put self-driving buses on the road in China in three years, after announcing successful test drives in Beijing last week.
Baidu has struck a partnership with BMW AG to develop an autonomous passenger vehicle, which may be put into mass production within five years.
Alibaba Group Holding Ltd. said earlier that it would launch its first autonomous car in a partnership with China's SAIC Motor Corp.