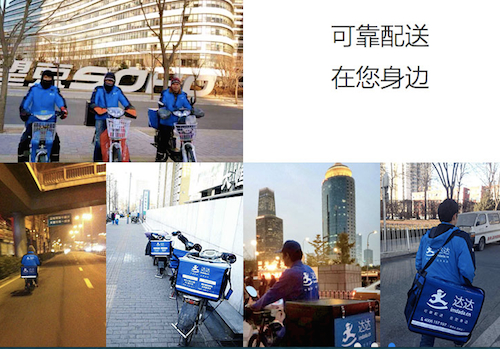 Shanghai-based Dada, a Uber-like mobile app that focuses on providing last mile logistics services, has completed US$300 million series D round of financing from DST Global, Sequoia Capital and other unnamed investors, according to Chinese media reports.
Launched in 2014, Dada operates through Imdada.cn and is valued at over US$1 billion after the completion of the latest round.
According to the start-up's website, it previously received several million U.S. dollar series A round from Sequoia Capital and tens of millions U.S. dollar series B round from undisclosed investors in 2014.
In June 2015, it received an undisclosed series C round led by DST Global, with participation from Sequoia Capital and Greenwoods Investment Management.
Dada's mobile app connects delivery workers with short-distance delivery jobs. The company says it has 800,000 registered and verified delivery workers and operates in 40 Chinese cities.
Its services are used by food delivery mobile app Ele.me, Baidu Inc.'s food delivery service and others, says its website.