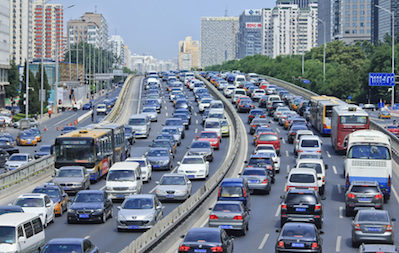 Chongqing has replaced Beijing as the city with the worst traffic jams in China, and staff working at Qihoo 360 Technology Co. Ltd. get off work the latest among all Chinese Internet companies, according to a new report released by Didi Kuaidi and China Business Network.
The report analyzes big data collected on Didi Kuaidi's apps, which have 300 million passenger users and 10 million users who share rides as drivers.
During rush hours in Chongqing, people spend 1.82 times of the length of time it takes for them to travel certain distances compared to when there is no traffic.
It is followed by Qingdao, Guangzhou, Beijing, Shenzhen, Hangzhou and Wuhan.
The worst traffic congestion happens around 5pm, with average travel speed of 20 kilometers per hour on average across the nation, meaning cars can only move 333 meters per minute.
Among Chinese Internet companies, employee at Qihoo 360 get off work the latest, followed by JD.com Inc., Baidu Inc., Tencent Holdings Ltd., Sina and Netease.
Hangzhou has the highest penetration rate of ride share mobile apps, the report says.