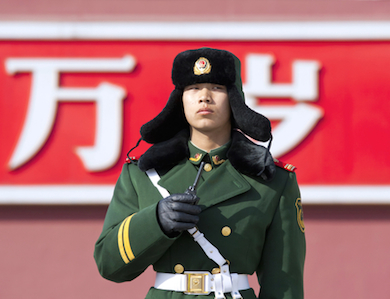 China's National People's Congress has set growth as the top priority for 2016, targeting a 6.5% to 7% economic expansion for the year and sending strong signals to the market that the country will now shift its focus to stabilizing growth, says a research report by Mizuho Secirities Asia Ltd.
China also set aggressive monetary and fiscal policies, targeting M2 growth at 13%, which is 5% to 6% higher than nominal GDP growth.
At the same time, the government increased the fiscal deficit to 3%, the highest level since 1949. The central government's investment budget will increase to RMB500 billion, suggesting that the government continues to view investment as a key driver of growth.
The Government Work Report avoided the term "deleverage," which is a key task set out in the central working conference of December 2015.
This could be another sign that the government is concerned about the risk that deleveraging could bring. As stabilizing the economy becomes its top priority, the government seems to encourage leverage rather than deleverage.
The debts of local governments will still be replaced by local government bonds in 2016. Lower interest costs will help them to boost local infrastructure investment.
China's central bank governor Zhou Xiaochuan recently commented that mortgage loans as a percentage of total loans in China are still low, indicating that China still has the potential to increase leverage.
The relatively low debt ratio of the government and the residential sector means China still has some room to resort to leverage to boost growth in the near term.
Growth of several economic indicators was actually lower than expected in 2015. For example, China's trade growth has been lower than its official target for four years.
Although the National Development and Reform Commission expected fixed asset investment growth and retail sales growth in 2015 to reach 15% and 13%, respectively, actual growth was 10% and 13%.
Contributing to this were sluggish foreign demand and domestic challenges, such as insufficient fiscal revenue. With more of the same expected in 2016, reaching or even surpassing the GDP growth target of 6.5% will be a challenge, says the bank.