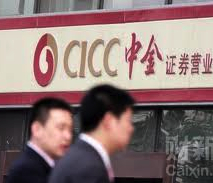 China International Capital Corp (CICC) is in merger talks with rival China Investment Securities, a brokerage unit of China Central Huijin Investment, according to Chinese media reports.
The move is aimed at expanding CICC's retail businesses and to pave way for the Chinese securities firm's long-planned potential domestic IPO.
China Central Huijin also holds a 28.45% stake of CICC.
CICC issued a statement confirming that the two parties are engaged in discussions on strategic cooperation and business opportunities, and the talks are in very initial stage and no formal agreements have been reached.
China Investment Securities, founded in 2005 after a reorganization of the former Southern Securities, is a wholly-owned subsidiary of government-owned China Central Huijin, which is in turn a unit of sovereign wealth fund China Investment Corp.
The Shenzhen-based firm operates 180 retail brokerage units across China, providing brokerage, advisory, trading, underwriting and other securities services.
In 2015, the company recorded revenues of RMB8.5 billion, with total assets of RMB92 billion at the end of year.