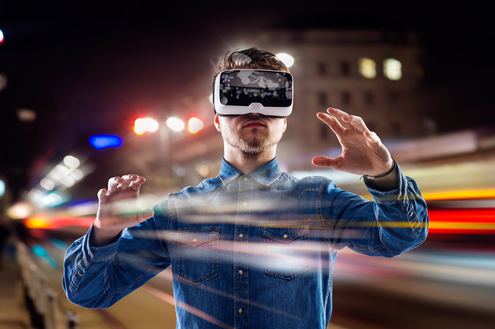 The year of 2020 will be the tipping point for virtual reality (VR), augmented reality (AR) and mixed reality (MR) to capture two thirds of consumers' leisure time, while the industry will reach US$150 billion by 2022, according to a report issued by BofA Merrill Lynch Global Research.
VR/AR/MR is enabling a fourth wave of computing power via a spatial computing revolution that integrates disruptive technologies such as sensors, big data, the cloud, artificial intelligence and wearables.
It has the potential to become the "form factor" for next generation computing as a universal, smart, and intuitive interface for the Internet of things (IoT) ecosystem.
It could be the one device to disrupt and rule the world of technology – bridging the digital and physical worlds for the 3.5 billion Internet users, 3.6 billion mobile broadband users, and 1.6 billion with TVs globally.
Near-term adoption will be driven by smartphone take-up with five billion installations by 2018, demographics, skyrocketing investment and content roll-out, such as Pokémon Go.
In the past year, a record US$2 billion have been invested by venture firms in the sector, while there were 1,300 start-ups in recent years.
VR/AR/MR could have 250 million to 300 million users by the early 2020s, with the long-term potential to capture two thirds of consumers' leisure time, and 50% of leisure dollars.
Future reality could be transformative for the education, entertainment, financial services, gaming, healthcare, leisure, media, and retail industries.
AR/MR will ultimately impact every sector and company by transforming how they communicate, design, manufacture, and sell products.
Over 50% of organizations are testing AR given its potential to boost productivity, reduce costs, and improve output. Given the technical hurdles of processing speed, bandwidth, AI-analytics, the tipping point for exponential growth is likely to be 2019 and 2020, says the report.
For the estimated US$150 billion market by 2022, VR is likely to account for one quarter, AR/MR will take up the remaining share. But the sector will still be relatively small, as Apple Inc. boosts a market capitalization of nearly US$600 billion alone.