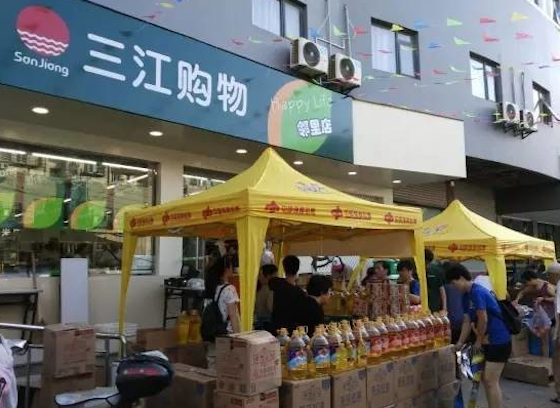 Alibaba Group Holding Ltd. plans to invest RMB2.1 billion (US$305 million) in Zhejiang province-based supermarket chain Sanjiang Shopping Club Co., Ltd., as the Chinese e-commerce giant moves to pursue a "new retail" model envisioned by founder Jack Ma.
Alibaba will obtain as much as 35% of Sanjiang via private share placement, share transfer and convertible bonds, assuming full conversion. In that case, the stakes held by company founder Chen Nianci and his affiliates will decrease to 37%.
During the past two years, Alibaba became the largest shareholder of Intime Retail (Group) Co. Ltd., and the second biggest shareholder of Suning Commerce Group Co., Ltd., adding significant offline store-based retail presence to the operator of online shopping platform Taobao and Tmall.
The deals were driven by the belief of Alibaba's founder and executive chairman Jack Ma that e-commerce would be a concept of the past and the era of pure e-commerce is ending soon.
The "new retail" of tomorrow will combine online and offline capabilities to provide faster, more convenient and satisfying experiences to consumers, assisted with modern logistics and big data-based analytics, Ma said in October in Hangzhou.
The latest deal will see Alibaba and Sanjiang cooperate across supply chains, logistics, online payment, membership and customer services to improve Sanjiang's retail business model, the parties said.
At the same time, Alibaba and Sanjiang will establish a joint venture with RMB50 million to set up an online and offline fresh produce retail company.
What's noteworthy is that Sanjiang has previously partnered with JD.com Inc., Alibaba's key competitor, based on similar reasoning.
Founded in 1995, Sanjiang is one of the largest supermarket chains in Zhejiang province with over 160 stores across the province in Ningbo, Hangzhou, Shaoxing, Taizhou, Lishui, Jiaxing and Zhoushan.
The company listed on the Shanghai Stock Exchange in 2011, but has since been struggling with rising costs, e-commerce and shifting consumer demands.