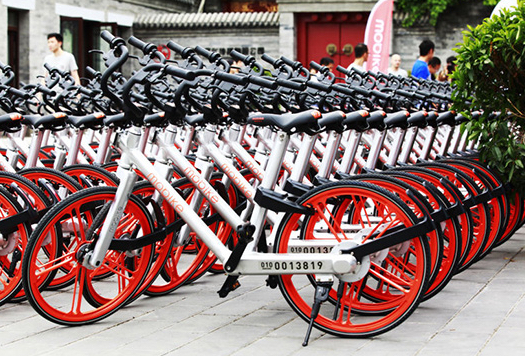 Global telecommunications giant Vodafone has joined the bike sharing craze originated in China by agreeing to provide Internet of Things (IoT) connectivity services for Chinese bike sharing company Mobike in Singapore, Mobike's first venture outside of China.
Vodafone connectivity will support the key features of the Mobike service including the GPS navigation, which helps consumers locate and book available bikes, and the proprietary QR code-based locking system. The GPS system is powered by a solar panel which removes the need for manual charging.
Unlike other traditional bike sharing schemes that require customers to return bikes to dedicated racks, Mobikes can be securely parked in any authorized location in a city.
"Vodafone's market leading IoT platform is helping to power successful sharing economy players around the world," said Ivo Rook, Vodafone's head of IoT unit. "Mobike has been hugely successful in its home market and we look forward to seeing how our suite of IoT services will be able to help to support its global expansion strategy."
As venture capitalists inject over US$1 billion into bike sharing start-ups in China, companies around the world are eager to join the ride. Yesterday, Denver, Colorado-based Gates Corporation said it had entered the rapidly expanding Chinese bike sharing market with the launch of a so-called Baicycle bike share program in Xiamen city. The Baicycle project uses Gates's own Carbon Drive belt and is financially supported by Mi, a large consumer electronics company whose identity is unclear.
Mobike was launched in April 2016 in Shanghai and now operates in 33 cities. It has more than one million bikes in operation, on which riders have completed over 200 million journeys.
In its latest round of fundraising, the company raised more than US$300 million, including investment from Singapore-based Temasek Holdings. The Singapore launch is the first step to take Mobike to other markets in Asia, Europe and the Americas.