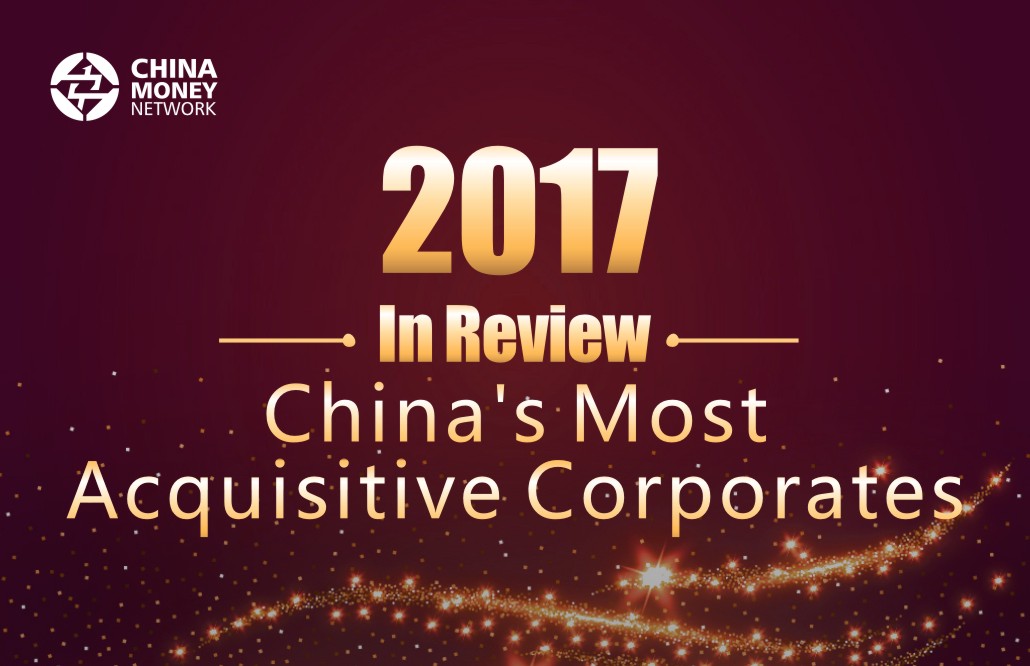 Chinese tech giants Alibaba and Tencent are among the most acquisitive companies in China both by the number of acquisitions and by total deal value of participating transactions. The shift came as some of the most aggressive conglomerates during the past few years dialed back as Beijing cracked down on speculative overseas deals, while the two tech companies deployed more capital for mergers and acquisitions this year.
China Investment Corp., the Chinese sovereign wealth fund, joined Alibaba and Tencent as the three most acquisitive Chinese companies in 2017 ranked by total participated deal value. In total, the three were involved in 69 deals valued at US$57.34 billion this year.
In terms of total number of deals, Alibaba participated in 32 deals totaling US$21.45 billion, a three-fold increase from US$6.93 billion from 29 deals last year. Tencent joined 34 investments worth US$16.98 billion, compared with 19 investments totaling US$11.6 billion last year, according to data from Dealogic. The data, however, is somewhat distorted by a US$9.2 billion partial privatization deal participated both by Alibaba and Tencent.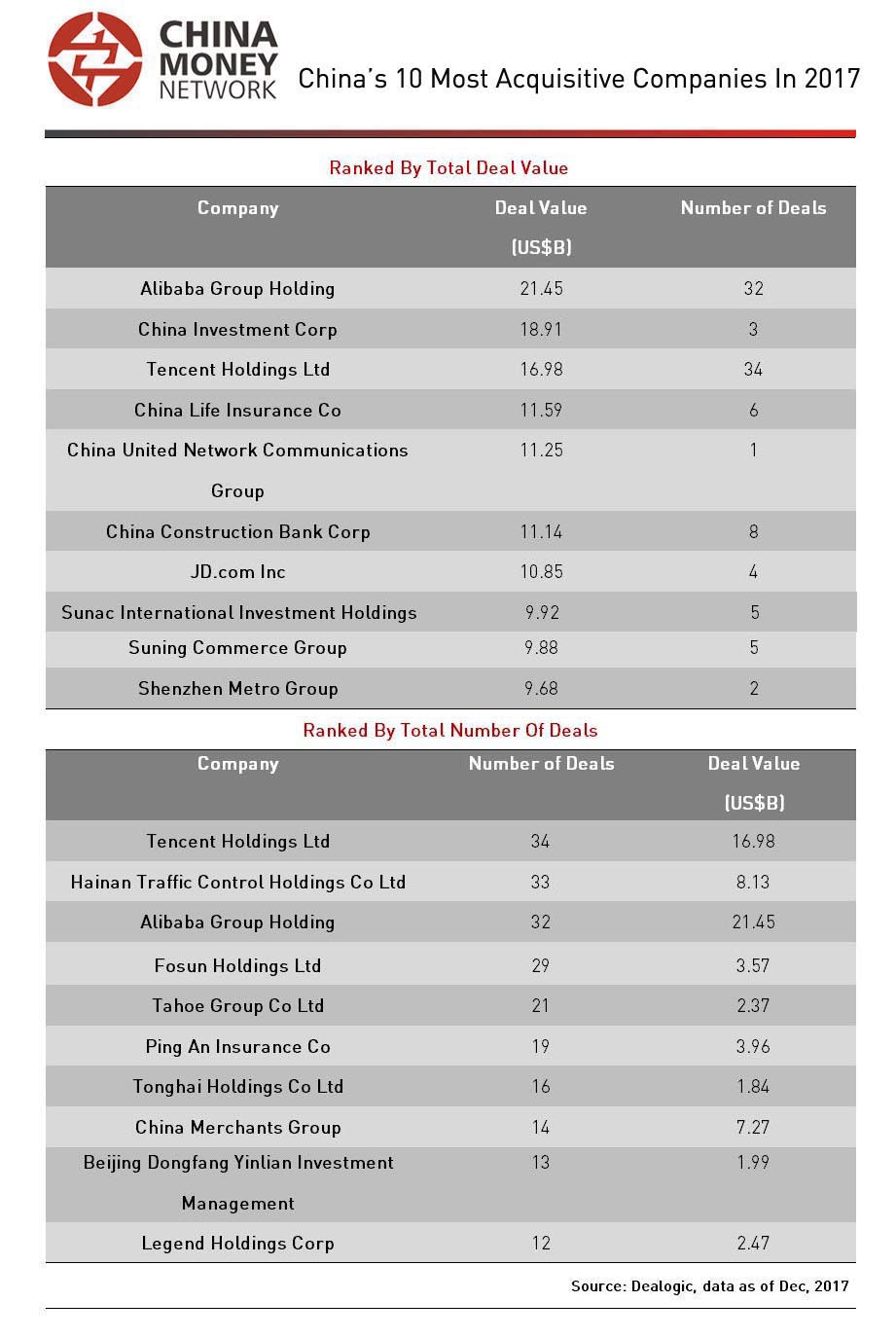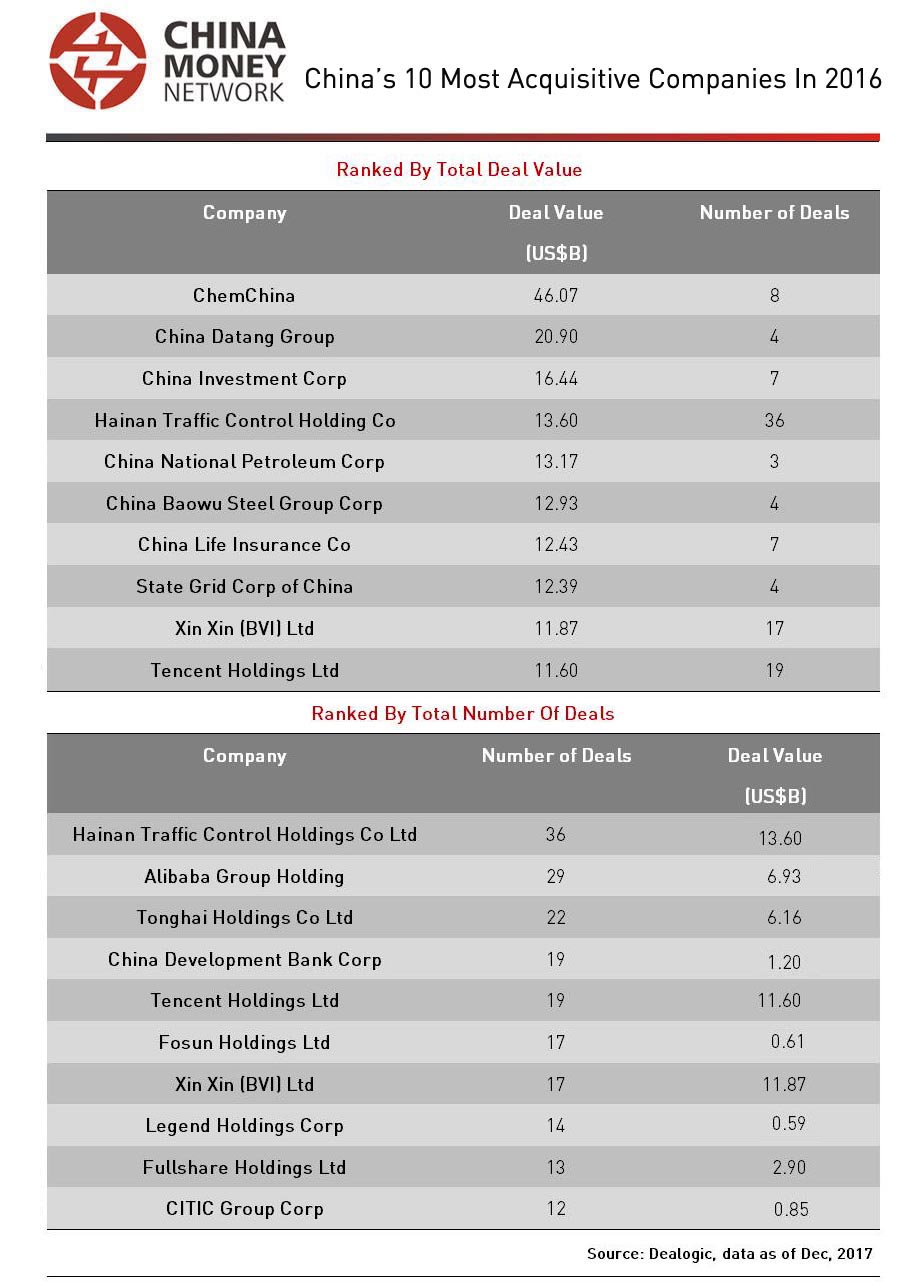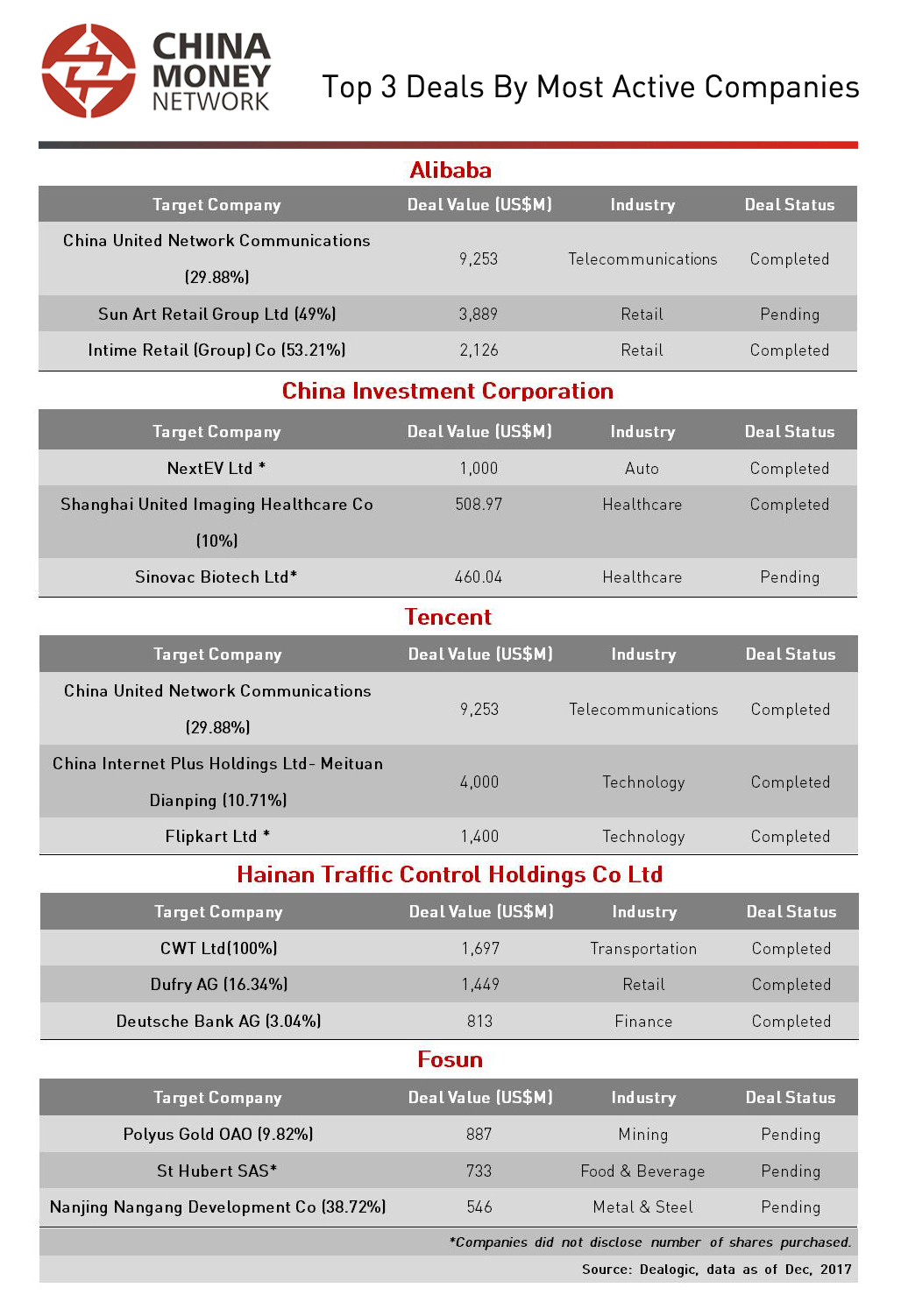 China Money Network's detailed deal lists show a huge shift in just a year. While five of the top ten most acquisitive companies ranked by total participating deal value in 2016 were in the energy and natural resources sectors, no company in this sector made the list in 2017.
Surprisingly, Hainan Traffic Control Holdings, the parent company of deal-thirsty HNA Group currently facing financing challenges, was the second most active buyer in terms of deal volume this year. The entity, also known as Hainan Traffic Administration Holdings, inked 33 deals totaling US$8.13 billion, down from US$13.6 billion it spent last year.
Some of HNA's deals included acquiring a 3.04% stake in Deutsche Bank AG for US$813 million, buying Singaporean logistics and supply chain operator CWT for US$1.7 billion, and purchasing 16.34% of Swiss airport duty free shop operator Dufry AG for US$1.45 billion.
Another acquisitive Chinese conglomerate Fosun Group recovered its pace of M&A this year from a tumultuous 2016. Fosun made 29 acquisitions valued at US$3.57 billion in 2017, compared with 17 deals totaling US$610 million last year. Some of Fosun's deals include purchasing 9.82% of Russian gold producer Polyus for US$887 million. That deal is currently pending.