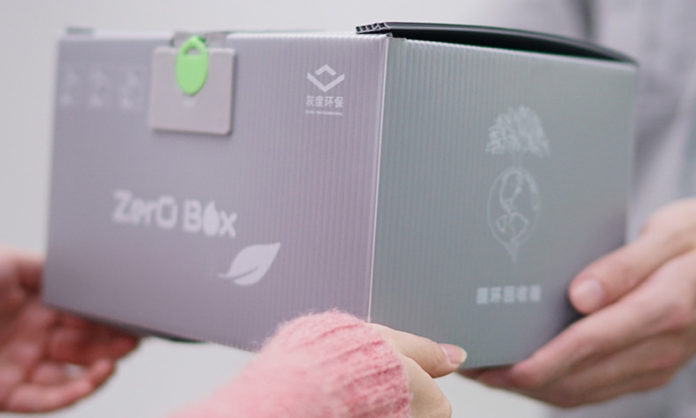 Huidu Environmental Technology, a Chinese recycling industry firm, has completed a RMB100 million (US$14.83 million) series A round of financing, led by Bojiang Capital, with participation from Gemboom Investment and Beijing Yi Road Capital Management, reported Chinese media platform 36kr yesterday.
Existing investors, including Daocin Capital and Shenzhen-based Prajna Investment, also participated in the round.
The proceeds from the round will be used for team building and construction of its recycling system including warehouse and distribution channels, said the Zou Tao, chief executive offer of the company.
Founded in 2017 and headquartered in Shanghai, Huidu Environmental focuses on the research and development of green recycling packaging materials with an administrative staff of 150 people.
Its self-developed ZerOBox, an eco-friendly recycling box to substitute traditional delivery package, has nabbed dozens of patents.
ZerOBox is made of the lightest plastic material, featuring qualities of non-toxicity, high pressure and heat resistance. Instead of glue or tape, the waterproof ZerOBox can be sealed with a plastic buckle. With an average service life of seven months, the wholly recyclable box is able to be reused over 50 times.
Huidu Environmental also launched ZerOBag, a recycling express bag and CoolBox, a recyclable cooler. Currently, its revenue is mainly generated from the sales of its three major patented products, but it aims to venture into additional services like logistics and advertising.
Several e-commerce giants, including Jingdong Logistics Group, Suning Logistics Group, vip.com and Yanxuan, have adopted their packages amid the e-commerce boom in China and regulations for green packaging from the central authority.
China's online shopping festival, Singles' Day, serves as an example of packaging excess: it has led to mountains of parcels at distribution centers, which seriously burdens the environment. Meanwhile, those production of packages made of paper and plastics have resulted in more consumption of wood and crude oil, adding to the environmental headache.
Over 10 billion cardboard packing boxes were produced in China in 2017 using 4,600 tons of base paper, equal to 72 million trees, as well as 300 million rolls of packing tape, according to China Packaging Federation.
The company also closed a RMB10 million angel funding round, participated in by PreIPO, Shangwan Investment and Chongqing Environmental Fund in 2017.